Illustrator(s)
Menton J. Matthews III
Justin Randall
Riley Rossmo
Release date
October 2010
Past Life, Issue 1 is a Silent Hill comic published by IDW Publishing. It was written by Tom Waltz, who also wrote Sinner's Reward and illustrated by Menton J. Matthews III.
Summary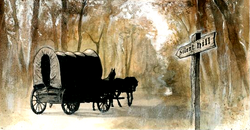 In 1867, Jebediah Foster and Esther Munroe ride to Silent Hill from the Dakota Territory in order to start a better life together. Along the way, they encounter the postmaster of the town, Howard Blackwood, who is on his way to deliver letters in Shepherd's Glen. Esther explains to Howard that she is inheriting her uncle's property, the abandoned Munroe farm just outside of town, and Howard reveals that it could require some repairs. They part ways, and Jeb and Esther reach Silent Hill.
Jebediah and Esther are astounded by Silent Hill's beauty and excited for their new life. After settling in at their new house, Jeb heads outside to put his horse in the barn, where he finds a bottle of whiskey. The whiskey triggers a flashback: some time ago, Jeb received money from a man named Grimes in return for murdering a group of people for unknown reasons, and celebrated the payment with a drink.
Esther suddenly screams from the house. Jeb runs inside and discovers a Cherokee woman, Inola, sitting on the floor with bleeding hands and a knife nearby. As Jeb looks for rags to stop the bleeding, Inola has a personal talk with Esther about her child and her relationship with Jebediah. When Jeb returns, Inola states that she suddenly has to leave and that her wounds are manageable. Jeb is still annoyed by Inola breaking and entering into their home, but an unnerved Esther begs him to let her go. As Inola exits, Jeb tells her to take the knife with her, but she replies that it doesn't belong to her; she was "just returnin' it." Before leaving, Inola calls Jeb by his old nickname: Hellrider.
Community content is available under
CC-BY-SA
unless otherwise noted.