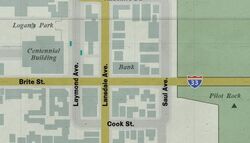 Pearl Creek is an area in Silent Hill that Murphy Pendleton can visit in Silent Hill: Downpour. It consists of the business district north of Cook Street and east of Lamon Ave. Although called Pearl Creek, there are no bodies of water in the district.
Silent Hill: Downpour
The most prominent location is the Centennial Building, a clock tower that houses the town archives, a restaurant, a museum, and the WLMN FM radio station. North of the Centennial Building is Logan's Park, an enclosed park where two artifacts can be found. Pearl Creek Bank is featured on Lansdale Ave., while Fenders Fine Art and Appraisals can be found in the alleys off Laymond Ave. There is also a replica of Room 302 hidden on Lansdale Ave. Finally, there is a homeless man who has taken shelter from the rain in Pearl Creek's subway station.
Gallery
Community content is available under
CC-BY-SA
unless otherwise noted.