Pendulum is a large hovering monster from Silent Hill 3. They are first encountered in the Central Square Shopping Center and can be found throughout Lakeside Amusement Park and the chapel. In addition to their game appearance, Pendulums are also featured in the Paint It Black comic book.
Appearance
The Pendulum has the appearance of two human torsos cut in half and connected at their hips by a metal circular device. Its arms are tied and bandaged behind their backs, with each torso facing the opposite direction of the other, and a pair of stilt-like, bladed legs sprout from the center of the mechanical device. It also has a blade attached to each of its heads and rotates its torso (like a pendulum moving in a single direction) while it moves as an attempt to cut Heather Mason. It makes a horrible loud screeching sound similar to that of rusty metal grinding, a noise which alters to a sound similar to a broken instrument's when harmed and grounded.
Character
Pendulums float in mid-air, slowly moving towards Heather until they start slashing her with their blades. They are very difficult to fight using melee weapons, so utilizing firearms is a much more effective method to take them out. They are notorious for hiding in dark areas, but their signature noise can help the player to detect their presence quite easily.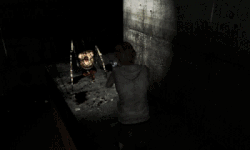 Some Pendulums, especially those found outside in South Vale and also in the Underpass, tend to walk on their blades rather than float. Should Heather approach them, they will lunge forward with their blades; furthermore, should Heather attack them, they will begin to float and resume their rotating attack.
The first time Heather injures one with a firearm, it will charge very quickly in mid-air, a particularly difficult move to block on time.
Pendulums don't usually fight alone; if one is found, there may be more of them in the area and will usually approach once Heather instigates a battle with just one. This makes fleeing from their group a wise decision.
Symbolism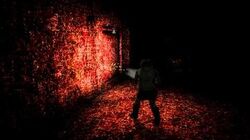 The Pendulum may represent Heather's upside-down, constantly changing feelings about the life she's having and the people she loves. The Pendulum also derives its name from the way it sways and moves while attacking.
The creature could also be a manifestation of Heather's giving birth to God, the head seen on top being Heather, and the bottom head which is God being birthed. In this case, the screeching noise could symbolize the physical pain of giving birth.
It could also be the dichotomy of Heather being Alessa Gillespie in truth and vice-versa, each side fighting for dominance while hurting those around them as a result. The screeching in this case would reflect the physical pain that Heather experiences when Alessa's memories begin to surface.
Trivia
External links
Gallery
Community content is available under
CC-BY-SA
unless otherwise noted.