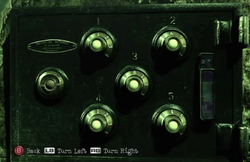 This article is a guide for a Silent Hill: Downpour puzzle.
After completing the "Ashes to Ashes" sidequest, a five-digit code will appear on the bench in the ashes. The code unlocks the Pleasant River Safe, which is in the same house the urn was found in; it is on the second floor, in the second room. The safe contains multiple dials, some of which will automatically turn other dials. Inside the safe is a Colt .45 handgun.
Solution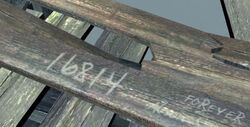 The code of the safe, 16814, is the code for the three different difficulty levels. The solutions are as follows.
=Easy
Turn dial 1 right three clicks
Turn dial 2 left four clicks
Turn dial 3 left four clicks
Turn dial 4 left two clicks
Turn dial 5 right two clicks
Normal
Turn dial 1 right three clicks
Turn dial 2 left four clicks
Do not turn dial 3
Turn dial 4 left two clicks
Turn dial 5 two right clicks
Hard
Turn dial 2 left four clicks
Turn dial 5 right two clicks
Do not turn dial 4
Turn dial 3 right one click
Then dial 1 right one click