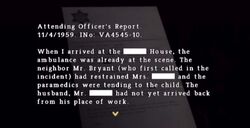 The Police Report is a report that Travis Grady finds in the Otherworld version of Cedar Grove Sanitarium in Silent Hill: Origins. It is located in the first floor laundry room. The report is the police response to Helen Grady's attempt to kill both her son Travis and herself.
Transcript
"Attending Officer's Report

11/4/1959, No: VA545-10


When I arrived at the ______

house, the ambulance was already

at the scene. The neighbor Mr.

Bryant (who first called in the

incident) had restrained Mrs.

___________ and the paramedics were

tending to the child. The husband,

Mr. _______, had not yet arrived

back from his place of work.


Thanks to Bryant's intervention,

the gas had been turned off and

the house ventilated - however,

there was still a strong smell

and I deemed it necessary to call

the fire department as a precaution.


It appeared that Mrs. _____ had

attempted to gas herself and her

child. When I spoke to the suspect,

Mrs. _______. she was uncooperative

and seemed enraged. She demanded I

release her so she could "kill the

devil child". She was clearly not

in control of her mind. Mr. Bryant

commented that several times in

the previous weeks, he had heard

loud arguments and screams from

the house. He said 'Helen has not

been well for a while.'"