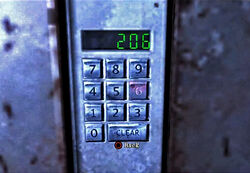 This article is a guide for a Silent Hill: Homecoming puzzle.
The Police Station Safe is a puzzle that can be found within the Shepherd's Glen Police Station in Silent Hill: Homecoming. It is located in a small office inside the garage, before Alex Shepherd opens the garage door and meets up with Elle Holloway in the parking lot. It can be solved to obtain a health drink and two boxes of ammo.
Solution
The safe is locked with a numeric keypad, which holds 6 digits. In order to unlock the safe, the player must enter the correct combination of numbers. There is real no real method of discovering the answer, as there are no instructions for the safe, however, there are several clues found throughout the game and within the police station itself, which allude as to what the correct combination is.
Within the garage in the small office, next to the safe is a clock. The clock is stopped at 2:06.
In the garage, there is a memo on the hood of a nearby police car. The memo is illegible except for a single line, which identifies the combination as being related to time:
"Only time will tell who has the will to survive"
Earlier in the game, Curtis Ackers revealed to Alex that all the clocks in town have inexplicably stopped at exactly 2:06.
With the clues given, the correct combination is revealed to be 206.