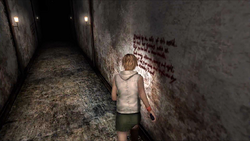 The Prayer to God is a collection of writings that compose a memo found by Heather Mason in Silent Hill 3. The prayer is scrawled in what seems to be blood on the walls of a tunnel that leads from the Happy Carousel to the chapel of the Order, shortly after Heather defeats the Memory of Alessa.
Transcript
"Stained by the evils of this world,
we hold our sorrows within us.
Only you can heal us these wounds.
Each morning, afternoon, evening
and night, we call out your name
and pray for the day of the
Miraculous Descent.
I give to you unreservedly
my body and my eternal soul.
Whatever darkness may befall me,
I will endure with you beside me.
As proof of your miraculous power,
guide our obedient and willing souls
to the Road of Paradise, oh, Lord.
We will not give in to the power of
temptation as long as we have you
in our hearts.
Oh, Lord,
save us with your compassion.
Oh, Lord,
shower us with your blessings.
Oh, Lord,
favor us with your abundance."
Trivia
It should be noted that the prayer shows the Judeo-Christian influences, including referencing the Psalms and various liturgical settings.