Queen Burger is first introduced in the first game of the series and can later be re-visited in Silent Hill: Downpour. The logo and name resembles that of Burger King.
Silent Hill
Queen Burger is found in Old Silent Hill, near Cafe 5to2 on the corner of Bachman Road and Matheson Street. It is an optional location that contains a health drink on a nearby table, but the actual building cannot be accessed.
Silent Hill: Downpour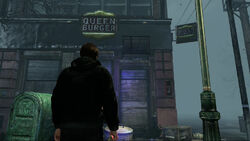 Queen Burger can be found in the upper-left region of one of the game's major roads, Brite St., located across from the movie theater. As in Silent Hill, only the exterior of the restaurant is able to be observed. Like most buildings in the installment, all of its doors are sealed or barred shut.
Gallery
Community content is available under
CC-BY-SA
unless otherwise noted.