Radha at the premiere of Silent Hill
Birth date
November 12 1973
Silent Hill films
Silent Hill
Silent Hill: Revelation
Radha Mitchell is an Australian actress who has been acting since the age of 15. She portrayed Rose Da Silva in the Silent Hill film and Silent Hill: Revelation.
Background
Radha's acting career began at the age of 15, at which time she appeared in Sugar and Spice. She went on to star in films such as Pitch Black, Man on Fire, and Melinda and Melinda. Radha is most recognized for appearing in the 2004 film Finding Neverland. She also took the role of Judy in the 2010 remake of The Crazies.
Silent Hill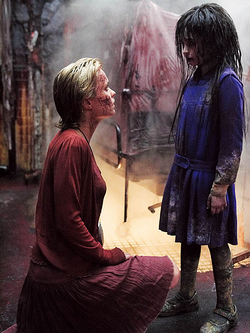 In 2005, Radha was chosen by TriStar as the top pick for the lead role in a Silent Hill movie adaptation, as a worried mother with a sick daughter. Director Christophe Gans agreed with TriStar's decision after viewing several of Radha's films.
Initially, Radha rejected the movie. After her most recent film, Melinda and Melinda, bombed, Radha then changed her mind and decided to take the role after all. This caused a great amount of dislike between herself and Gans, who felt she didn't care enough about the movie.[1]
Radha was one of the first actors hired, just after actress Jodelle Ferland. According to interviews, Radha initially was so frightened by the film's script that she refused to finish reading it after looking through only a few pages. The next day, she finished the script during daylight hours.
Silent Hill: Revelation
Radha returned as Rose in Silent Hill: Revelation, though her role was minor. She only appeared in one scene, which was used to explain how Rose's daughter escaped the Fog World.
Radha also has a deleted scene in Silent Hill: Revelation where she sees her daughter for but a second after saving her from a cult member.
Trivia
Radha was punched in the face by a Dark Nurse during filming due to a mistake in the choreography of a scene where Rose ducks away as a nurse slashes at her in the Otherworld Brookhaven Hospital.
Christophe Gans was irritated by Radha's approach to acting, which typically involved her needing several shots before she could get into character. In the DVD commentary, Gans states that it was especially difficult to film scenes with Radha and co-star Laurie Holden (Cybil Bennett), due to their very different acting techniques.[2]
Radha was so impressed by 10-year-old actress Jodelle Ferland's handling of three different characters (Sharon Da Silva, Alessa Gillespie, and Dark Alessa) that she decided that Jodelle was her new favorite actress.
Radha tried to change one of Jodelle Ferland's lines, which caused Jodelle to exclaim that doing so would destroy the line's Biblical symbolism.
To add to the accumulated filth caused by her character's journey throughout Silent Hill, Radha did not wash her hair throughout the filming process.
References
↑ "Yet we didn't have a fantastic relationship on the set. I think that came from a basic problem which was that Radha Mitchell, who was the studio's choice, TriStar's choice, rejected the film at first. She read the script and said no. In fact, she was waiting to see how a film she'd just made, Melinda and Melinda, would do. This film, by Woody Allen, was a total flop, and she came back to us and said, "Yes, I'll do Silent Hill." Due to her hesitation our relationship didn't get off to the best of starts. It wasn't that we hated each other or anything like that. In fact, I never had with her, nor she with me, the sort of complicity such a project required. So it ended up being rather difficult between us." Gans, Christophe (2009). Silent Hill: Metropolitan Édition Haute Définition [Blu-Ray; Disc 1/2].
↑ "This sometimes caused problems with Radha Mitchell, who is slower to get going. Radha Mitchell reaches cruising speed by the sixth take, whereas Laurie Holden is full-on in the first. This made working with them both very complicated. There were some tricky moments for me, when they weren't in sync, because of their different ways of working." Gans, Christophe (2009). Silent Hill: Metropolitan Édition Haute Définition [Blu-Ray; Disc 1/2].
Gallery