Roblox: DeepWoken - The Loop
Play Sound
Description
"Max load is 10 bullets.
Easy to use but not much power."
Appearances
Silent Hill 2: Born from a Wish
Silent Hill 4: The Room
Silent Hill: Origins
For the firearm in Silent Hill: Homecoming, see Old Revolver.
The Revolver is a weapon found in Silent Hill 2 (only in Born from a Wish), Silent Hill 4: The Room, and Silent Hill: Origins.
Silent Hill 2: Born from a Wish
"Max load 10 bullets. Easy to use but not much power."
In Born from a Wish, Maria starts out the game with a loaded revolver in her inventory. It has a single bullet in it, suggesting she has been contemplating suicide. The gun works much like James Sunderland's handgun, holding ten bullets in the cylinder and using ammo in boxes of ten. At the end of the scenario, Maria contemplates the act of suicide by raising the revolver's barrel to her head. Soon after, she throws the revolver away in defiance and continues down through the town in search of James.
Judging from the design, it appears to be a Smith and Wesson Model 60 Ladysmith.
Silent Hill 4: The Room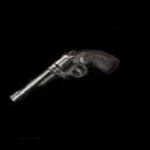 "Holds a maximum of six bullets. Easy to use, with moderate stopping power."
Richard's Revolver is a weapon in Silent Hill 4: The Room. Formerly owned by Richard Braintree, Henry Townshend obtains this weapon on his first visit to the Apartment World, found in Room 207 (Richard's apartment).
It has great stopping power and is fairly powerful, but ammo for it is very scarce and should be used sparingly. Henry can only obtain two guns throughout the course of the game, and this is the most powerful firearm at his disposal.
Richard's revolver appears to use .357 Magnum shells. His revolver is not based on any one firearm, but takes influence from Webley series revolvers, the Colt Single Action Army and the Colt New Service.
Silent Hill: Origins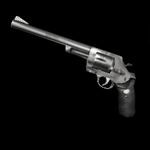 "A heavy, reliable six shooter. Has 'Redeemer' etched on its side. A classic .44 hand cannon, this provides more than enough bang for my buck."
The Redeemer is a revolver found inside an open suitcase in Room 108 of Riverside Motel. It is capable of firing up to six .44 Magnum cartridges before needing to reload. It is a slow-firing but powerful firearm designed to take down strong monsters. Its ammo is the scarcest of any of the firearms and should be saved for later in the game.
It resembles a Smith & Wesson Model 29 .44 Magnum with an 8-inch barrel, in the PS2 Version, it's more detailed, with a woman engraved on the side while the PSP version lacks this engraving.
Trivia
Maria is so far the only character in the series to start the game with a gun in her inventory (and a loaded one, at that) who was not dreaming or suffering from delusions. Heather Mason starts Silent Hill 3 with a sizeable arsenal in her inventory (a submachine gun, a handgun, and a knife), but gameplay shortly reveals it to be just a dream.
Maria's revolver, despite the obvious influences of existing Smith and Wesson models, is capable of holding up to ten rounds, an unusually high count for a revolver, particularly one in .38. This is most likely an added feature for gameplay purposes.
Eddie Dombrowski has a revolver in Silent Hill 2 that he uses to defend himself and attack James. However, even after he dies, James cannot pick it up. The novelization reveals the revolver belonged to Eddie's father.

Eddie's revolver bears resemblance to the Colt M1873.

Some Nurses in Silent Hill 3 carry a revolver that can deal a fair amount of damage to Heather.
The revolver (Old Revolver) was also in Silent Hill: Homecoming, but it's unusable. It's used to trade with Curtis Ackers for a Mk 23 Handgun.
Gallery