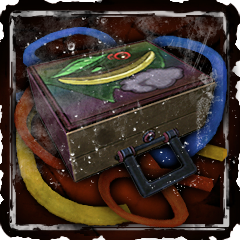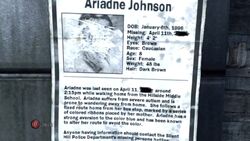 Ribbons is a sidequest in Silent Hill: Downpour. It can be triggered by examining the missing person poster on the left side of Lansdale Avenue.
The flyer states that Ariadne Johnson, an 8-year-old girl with autism, went missing while returning home from school. Due to her mental condition, her mother placed several ribbons on the street to guide her home.
Quest solution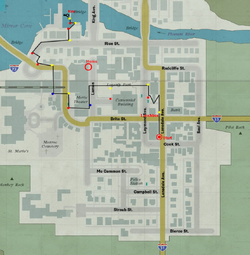 After reading the flyer, the player should continue up the same lane until Murphy Pendleton finds a light pole with a yellow ribbon on it. Under it there is a note inside a lunchbox, which is integral to completing the quest. The rules to the ribbons are such:

Yellow ribbons = Turn left
Red ribbons = Turn right
Blue ribbons = Turn away/Go another way

If the player forgets these rules, they can have Murphy examine the ribbons and he will recite the rules. After exiting the Centennial Building, Murphy must follow the ribbons until he reaches the piers in the Pleasant River area of town. Once at the pier, only a key from the girl remains; she fell into the water and drowned. If Murphy does not follow the path exactly, the key will not be at the pier, and he will have to try again from the lunchbox. The player must take the key and head to an apartment building next to the Chastain Heights Cinema. The key will unlock the only available door.
Once inside the apartment, the player can head into the bedroom to find a confession note. The disturbing confession suggests that the mother was incredibly frustrated; incapable and unwilling to tolerate the mental condition of her daughter, she deliberately created the route to the pier, thereby leading her daughter to her death. After reading the note, the door to Ariadne's bedroom will open, where Murphy can find two first aid kits.
Trivia
Completing the sidequest unlocks the Trophy/Achievement "Long Walk, Short Pier".
Gallery