The Rifle is a recurring firearm in the Silent Hill series. It is generally the most powerful and reliable, non-secret weapon in the game and often the last of the guns found, geared more to medium and long-distance combat, unlike the short-range shotgun. It works most efficiently when not cornered or fighting against multiple enemies, and its negative attributes usually include a long reload time and a scarce amount of ammunition available. Silent Hill 3 and Silent Hill 4: The Room are the only main series games in which the rifle is not seen, included, or used by the players.
Silent Hill
"Holds up to 6 rounds."
The Hunting Rifle is the most powerful long-range weapon in Silent Hill. Although the player cannot move while firing and it is slow to reload, its precise accuracy and damage make it particularly deadly. Harry Mason can find this weapon in the Silent Hill Town Center at the Mellow Gates Gun Shop, on the ground after (or during) the fight with Twinfeeler. As few enemies in the game move slow enough to leave an opening for multiple rifle shots, it is not advisable to use the hunting rifle when the handgun or shotgun will suffice. Note that Incubus and Incubator are vulnerable to rifle shots.
Silent Hill 2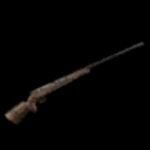 "Maximum capacity 4 shots. Takes a long time between shots, but each shot is very powerful."
The Hunting Rifle is the most powerful long-distance firearm in Silent Hill 2, though it does suffer from drawbacks; the player cannot move when firing, it has a magazine capacity of only four rounds, and it is slow to reload. Ammunition is also considerably limited, so conservation is best. It is found in the Warden's Office in Toluca Prison and resembles a Winchester Model 70.
The hunting rifle is best used against bosses and tougher enemies such as Pyramid Head and Mary.
Silent Hill: Origins
Individually-named, three rifle-type weapons can be found in Silent Hill: Origins.
Hunting Rifle
"A sleek hunting rifle. This breech loader is slow to fire but powerful, with a long range."
The Hunting Rifle shoots .38 caliber rounds. It fires much faster than the shotgun, but is slower to reload. Ammunition is scarce due to the weapon being introduced mid-game. It is able to inflict severe damage against monsters and bosses. It can be found on the second floor in a dead-end corridor in the Otherworld Artaud Theater. It resembles the Winchester Model 70.
Assault Rifle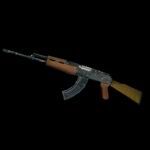 "A fully automatic assault rifle. This knock-off of an iron curtain rifle has a large magazine that holds 18 bullets."
A second rifle, an Assault Rifle, is both powerful and very reliable. Ammunition for the assault rifle is few and far between but can be found if one takes the time to look for it. It is located within Andy's Books. 
The weapon resembles a Norinco Type 84S, due to its unusually long barrel, yet it is chambered for 7,62mm ammunition like a Norinco Type 56. The weapon fires 7.62mm rounds in rapid succession and has an incorrect magazine capacity of 18 rounds, when it actually is depicted with a 30-round 7.62mm magazine, more characteristic of a Norinco Type 56.
The fact that Travis Grady can acquire such a weapon is a blatant anachronism since civilian AK type rifles entered the US market after 1982, and Silent Hill: Origins is presumably set in 1976, although Travis reflects the rifle is indeed an imitation from the Communist bloc.
Oddly enough, The Assault Rifle has a different ammo box model depending on the version unlike all other firearms, being a small commercial "Civilian" box of ammo in the PSP version but a larger metal military ammunition box in the PS2 Version.
Tesla Rifle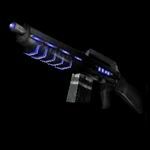 Main article: Tesla Rifle
"The mysterious Tesla Rifle, a weapon from another world. The Tesla Rifle harnesses the power of moonbeams to dispense unlimited electric death. Rumor has it the gun was developed using alien technology."
The Tesla Rifle is an unlockable weapon, obtained only after the UFO Ending has been achieved. The weapon looks very futuristic and shoots unlimited electricity from its barrel in opposition to actual ammo. It serves a similar role to that of the Hyper Blaster from the first Silent Hill.
In exchange for devastating damage, the Tesla Rifle possesses a horrid effective range, resulting in the possibility of being easily overwhelmed or even killed while using it. As such, this weapon proves to be an extremely dangerous choice of firearm when confronted with enemies that have charging attacks, such as the Caliban and the Carrion.
Silent Hill: Homecoming
Individually-named, two rifle-type weapons can be found in Silent Hill: Homecoming.
M14 Assault Rifle

"Fires slowly, but has longer range and greater power than any pistol."
The M14 Assault Rifle in Silent Hill: Homecoming is an optional weapon and the first-tier rifle of the game. Like its predecessors, Homecoming employs a rifle that is very potent for long distance combat, the only weapon that can outclass it in terms of damage at close range being the shotgun. In this particular case, it's not named "Hunting Rifle" as in past iterations, and it is semi-automatic rather than bolt-action. The weapon can be found in Dargento Cemetery in Silent Hill but can only be acquired after solving the optional Janus statue puzzle. Prior to this, Alex encounters two Order Soldiers in Toluca Lake Water and Power, one of whom is armed with an M14 Assault Rifle. Nonetheless, he is never able to pick up the weapon. Finding the M14 Assault Rifle for the first time on the Xbox 360 version will award the achievement "Lock 'N' Load".
Police Marksman Rifle

"Has increased damage and holds more ammunition over the regular rifle."
The Police Marksman Rifle is found on a desk in Room 113 of the lair. It is the second-tier rifle in the game, being more powerful than the M14 Assault Rifle and having a six round capacity. It is possible that this weapon belongs to Deputy Wheeler, as he is held in the adjacent room and its name confirms its use by police. It resembles the Accuracy International Arctic Warfare rifle.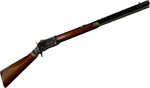 "Ranged firearm."
Using a special code (911977), the player can obtain a Rifle resembling a Winchester Repeater albeit missing a trigger guard and lever. Its melee counterpart is the golf club. It holds ten rounds and possesses good stopping power, even at long ranges. Note that once the weapon is redeemed, ammo drops will start appearing. Green lockers will hold new rifles, in case the player drops one. It is the most powerful of all firearms in-game.
Similar to Silent Hill 2, the rifle is found in Toluca Prison. When the first route select appears, choose left, and when it appears again, select left once more. It will be found beside a Gum Head in a shower stall. It holds 24 rounds.
Silent Hill: Book of Memories
The weapon can be acquired in Book of Memories, where it is found within Zone 14 rooms and Howard's Shop.

Gallery