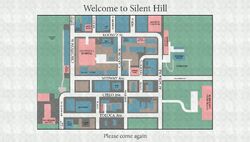 Riverside Dr. is a road in the western part of the Central Silent Hill section of Silent Hill, seen in Silent Hill: Origins. Riverside Drive connects Crichton Street, Cileo Avenue, and Toluca Avenue. Riverside Drive is the location of Riverside Motel, which Travis Grady must visit.
Silent Hill: Origins
After defeating Caliban and finding the motel key, Travis leaves Artaud Theater to search for more clues inside Riverside Motel. The path to the motel is not a simple one, and Travis must navigate through various alleyways and enter several stores to reach his next destination. He also sees that the Calibans that he fought back in the theater are now roaming the streets of Central Silent Hill and Carrions have grown in size and become much stronger.
Businesses