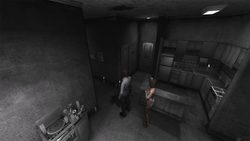 Room 302 of the Past is encountered nearing the climax of Henry Townshend's journey in Silent Hill 4: The Room. Henry and his neighbor, Eileen Galvin, enter a manifestation of Room 302 as it was in the past; it is at the bottom of the Spiral Staircase between Walter Sullivan's Otherworlds. Upon entering the door, however, it is evident that this Room 302 is not as it is during Henry's ownership.
The interior of the apartment is mostly monochrome gray, most likely to show that this is the apartment of the past. The furnishings are also different from those of Henry's apartment and Holy Candles cover much of the room. Among the objects that aren't monochrome are the Holy Candles and pages of the Red Diary scattered about and the typewriter used to type the pages.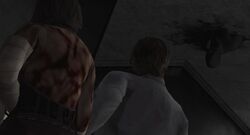 After examining the Red Diary pages in the bedroom and on the coffee table, Henry and Eileen will notice the form of Joseph Schreiber, the past tenant of Room 302, projecting from the ceiling. Joseph addresses the two about Walter's hope to resurrect Room 302 as his mother by following the 21 Sacraments. In order to halt his plans, Henry is told, as the Receiver of Wisdom, to follow the Crimson Tome and kill Walter Sullivan.
Gallery
Community content is available under
CC-BY-SA
unless otherwise noted.