Rosewater Park is a park in South Vale, located on the southern shore of Toluca Lake in Silent Hill.
The park contains various memorials that shed some light on Silent Hill's past. On the east side of the park is a statue in remembrance of Patrick Chester. To the west is a statue dedicated to Jennifer Carroll, and on the promenade is a memorial regarding a disaster, which occurred years past, on the lake. The lake disaster memorial could foreshadow Mary's future regarding the "In Water" ending as she died with an illness and would later rest in the lake.
Silent Hill 2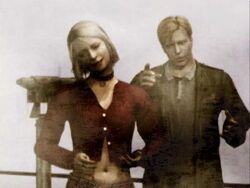 In Silent Hill 2, James Sunderland must travel through the park in order to reach another area of the town. This is where he first encounters Maria, mistaking her for his wife, Mary Shepherd-Sunderland.
During the introduction of the game, it is revealed that James received a letter from Mary, who was deceased at the time the letter was written, beckoning him to their "special place". James assumes it to be the park and makes it his goal to get there. As he ventures to the park in search of Mary, he contemplates whether it could be the "quiet, beautiful place she was talking about". Mary and James had visited the park during their stay in Silent Hill years before, James stating it was "just the two of [them], staring out at the water."
James later returns to the park in order to retrieve a key, which can be found in a bolted box buried behind the statue of Jennifer Carroll. This key is used to unlock the door leading into the Silent Hill Historical Society.
Silent Hill 3
The park also makes an appearance on the map of South Vale included in Silent Hill 3, but it cannot be entered as the gates to it have been closed.
Sinner's Reward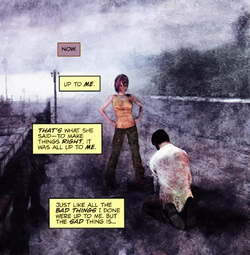 Jack Stanton flees to Rosewater Park in the finale of Sinner's Reward. Here, Jack has a hallucination of his childhood dog Digger. Sara Linwood appears to Jack and convinces him to kill himself for murdering her and her family, as well as for the lives of others in the past.
Trivia
There is an ad for Rosewater Park in one of the props used in the Silent Hill film.
"Rosewater's Chocolate" boxes can be found in Sweet Factory Store in Silent Hill 3.
Gallery
Community content is available under
CC-BY-SA
unless otherwise noted.