Roblox: DeepWoken - The Loop
Play Sound
Description
"One-handed axe. A little short, but powerful and easy to handle."
Location(s)
Bar Southfield, Building World
Appearances
Silent Hill 4: The Room
The Rusty Axe is a weapon seen only in Silent Hill 4: The Room. As the name implies, it's a small, bloodied, rusty axe, light enough for Henry Townshend to hold in his right hand. The axe is found in Bar Southfield during Henry's first venture into the Building World.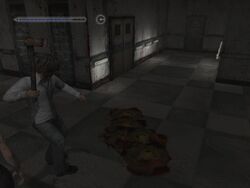 The axe's regular attacks carry some power, but naturally more when the attack is in its charged state. During the charged attack, Henry will step forward while swinging the axe overhead, rendering him momentarily invulnerable during the action. The rusty axe can be one of the most reliable weapons in the game, as it is indestructible, easy to use, and can defeat monsters with minimal hits. The "wind-up" time endangers Henry, however, as he can only walk while preparing the hit, thus making groups of monsters more treacherous.
Trivia
Gallery