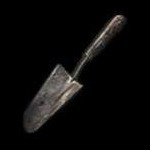 This article is a guide for a Silent Hill 4: The Room puzzle.
After giving the chocolate milk to Jasper Gein, Henry Townshend will receive the Blood-Inscribed Spade. As hinted, he needs to use it to dig in front of the tree roots shaped like hands. They can be found by a large tree outside of one of the Apartment holes.
After Henry receives the Rusty Blooded Key, the player cannot get back to the Wish House Orphanage to use it. If the player attempts to go back down the forestry path, they'll be stuck in an endless loop of fog and a door that repeats itself.
To fix this, return to Room 302 and place the Rusty Blooded Key inside Henry's chest. Return to the Forest world and the path is normal again. Enter any of the other holes (there is one in the same area as the orphanage), retrieve the key, and the orphanage may be opened.