Sean Bean is an English actor best known for starring in The Lord of the Rings, Sharpe, National Treasure, and Game of Thrones.
Background
Bean began his acting career by attending the Royal Academy of Dramatic Art in 1981, and appearing in several Shakespearean plays. His stage success led to film and television roles, with Lady Chatterley cementing his role as a sex symbol in popular opinion. He went on to star in several other films, including Patriot Games, The Lord of the Rings, GoldenEye, and Percy Jackson & the Olympians: The Lightning Thief, among others.
Bean has also lent his voice to the video game The Elder Scrolls IV: Oblivion.
Silent Hill
In 2005, Bean was hired to play Christopher Da Silva in the Silent Hill movie. Initially, his character was only supposed to appear at the beginning and end of the film, but studio pressure forced the writers to give him a larger role, as executives believed the film would fail with only female characters. Director Christophe Gans personally chose Bean for the role, due to Bean's strong resemblance to James Sunderland of Silent Hill 2 fame- Christophe's favorite character in the series.
Silent Hill: Revelation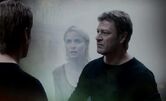 Bean returned for the 2012 sequel Silent Hill: Revelation. Here he is credited as Christopher Da Silva/Harry Mason, due to a name change the character underwent.