| | | |
| --- | --- | --- |
| " | We're getting deep in it now. I can almost taste it. All this talking and we still haven't touched on the sex thing. ...That's what you're thinking. Aren't all psychiatrists supposed to be obsessed with sex? It's not us, it's you. | " |
Sexuality is a common motif in Silent Hill. The theme appears in nearly every game in some form or another, being more prominent in Silent Hill 2 and Silent Hill: Origins, with Silent Hill: Homecoming having the same theme as well. It is mostly absent from the first game and Silent Hill: Downpour, although Downpour has some traces of it.
Silent Hill 2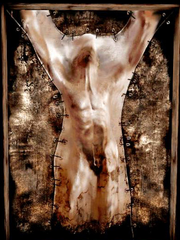 Sexuality was explored in Silent Hill 2, in which James Sunderland's wife was hospitalized for three years due to a debilitating illness. During these years he watched his wife grow weak, bitter and, in her own words, ugly. This naturally had a profound impact on their sexual lives.
The Mannequin is representive of James' natural sexual urges, which impacted the way he saw Pyramid Head murder two Mannequins in the apartment building.[1] According to creature designer Masahiro Ito, Pyramid Head's actions are not literal rape but they intentionally included a visual sexual undercurrent.[2][3] As Takayoshi Sato explains, "Psychological horror has to shake human's heart deeply. Shaking people's heart deeply means uncover people's core emotion and their core motivation for life. Everybody is thinking and concerning about sex and death. Everything. If we want to scare, shake, or touch the users or spectators, then we have to think about sex and death deeply. To make like a death scene, somebody died or monsters died, we tried to mix erotic essence. This is kind of a visual and a core concept."[4]
The character Maria can be seen as a partial manifestation of his sexual desires. Maria is healthy, beautiful, cheerful and vibrant. She is everything that Mary was not near the end of her life. Maria represents the type of woman James wishes Mary was and he ends up trying to replace Mary with her in the "Maria" ending.
Angela Orosco was also raped by her father and brother, a victim of her family's sexuality. Her trauma is manifested as the monster Abstract Daddy and by her Otherworld. For example, Abstract Daddy's room is shown to have pistons moving in and out of holes. In Angela's final moments in the game, she is seen standing between two fleshly naked figures.
The theme also appears in Fukuro.
Silent Hill 3
In Silent Hill 3, the theme is present, though it manifests mostly in the form of the god forming within Heather Mason's uterus. Heather being pregnant against her will could be seen as a parallel to rape.
Heather is a teenager and may be struggling with her own sexual feelings, while the part of her that is Alessa Gillespie knows the dangers of men. Heather is seventeen years old and is likely attracted to boys around her age, but would likely be unable to pursue any relationships due to having to live in hiding. She later becomes the object of affection for Stanley Coleman against her will who writes poems about how beautiful she is.
The possible appearance of the Fukuro Lady and the Brookhaven Nurse can also be considered sexual, seeing both being abused at some points, the later being abused or caught and exploited by Valtiel on many occurrences.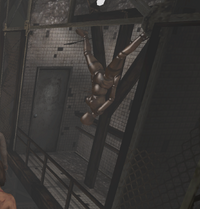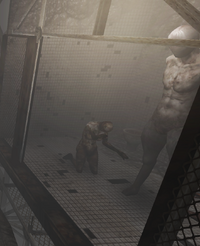 Cynthia Velasquez is shown as being promiscuous. Even at the age of thirteen, she was already going to night clubs. Walter Sullivan is hinted at being attracted to her, but she turned him down. Cynthia is given the "Temptation" theme in the 21 Sacraments. When she enters what she thinks is a dream, she promises Henry Townshend, the first man she meets, a "special favor" if he helps her.
Although Henry was checking to see if Eileen Galvin was safe, he still winds up spying on her, which could be seen as having a voyeuristic element to it. The Eileen Head monster could be seen as a reversal of this role, and she appears to be moaning and breathing in a sexual manner. Eileen is known as the "Mother" reborn.
Both Cynthia and Eileen have sexual alternate outfits with breast jiggle physics.
The Spiral Staircase, apparently manifested from Walter's subconscious, is shown to have many nude-like figures for unknown reasons. Some of them are female and seem to be in bondage. For example, one female mannequin is hung from her nipples. Given Walter's lonely nature, it is possible he was unable to develop an average view of sexuality and became interested in BDSM. Another setpiece shows a tall naked masculine figure with wings being worshipped by two naked female figures. This may represent Walter's desires.
At one point in the game, a mannequin of Cynthia is mysteriously manifested in the subway, a possible reflection of Walter's desires to have her.
Silent Hill: Origins
The theme is much more prominent in Silent Hill: Origins than in past games, save for Silent Hill 2. Protagonist Travis Grady is a troubled trucker tormented by his past. When he was a child, his mother went insane and tried to murder him. As an adult, his problems with women becomes apparent. A fellow trucker tells him that he needs to find himself a nice girl, implying he doesn't have much contact with them. Monsters are noticeably affected by this, the Faceless Nurses being the most obvious, as well as the Two-Backs. Also, Lisa Garland plays a role in this, as she flirts playfully with Travis at times and it is implied that she and Michael Kaufmann have sex.
The Butcher also portrays his sexual frustration, as the creature can be seen slicing through the reproductive organs of his victims, specifically the sexualized monsters. It is unclear whether Travis once was a serial killer and committed these acts, or if the Butcher is merely a manifestation of his inner demons.
Silent Hill: Homecoming
After an accident on the lake that kills his brother, Alex Shepherd goes into a state of psychological repression. For this, as well as other reasons, he is institutionalized.
During his time, he creates the delusion that he was a soldier, believing that he was in a hospital for wounded soldiers, rather than a mental hospital. He imagines that the nurses wear revealing clothing to comfort the soldiers. The Nurses in the game have noticeable cleavage and have a growing fetus in their womb, heavily symbolizing birth, which is a very powerful theme in the game.
Alex speaks fondly of the girls back in his hometown of Shepherd's Glen, as well as making reference to buxom females he sees during his tour of duty, suggesting that he is somewhat sexually frustrated.
Scarlet Fitch died as a little girl, yet in her monstrous form she has full breasts. They may be there to represent how she will never grow up to be a complete woman, physically or sexually.
Nora Holloway's monstrous form also bears many pairs of breasts. When Nora died, she was a teenager. The overwhelming amount of breasts as well as the vaginal area being covered may represent how she will never get to experience the pleasures and physical aspects of womanhood.
Unlike all other games in the series, there is a very real possibility for the protagonist to become a sleaze, which influences the ending. Harry Mason can look at pictures of half-naked women and act sleazy and promiscuous, and this will affect how the game progresses and the ending as a whole. Depending on his Psych Profile, characters can become sexualized such as Cybil Bennett.
In the "Sleaze and Sirens" ending, it is revealed Harry cheated on his wife with Lisa Garland and Michelle Valdez.
Psychiatrist Michael Kaufmann also asks Cheryl Heather Mason many sexual questions, and in the end, he claims she has "abnormal sexuality" no matter what the player answers.
Silent Hill: Downpour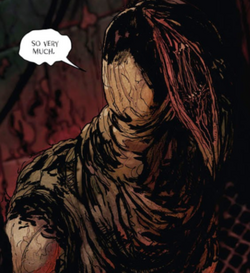 Murphy Pendleton encounters Dolls who have a sexual design for unclear reasons. In Anne's Story, it is implied they may manifested from Anne Marie Cunningham instead of Murphy. One of them slut shames Anne because she had a sexual encounter with Leonard B. Trent, who manifests as a phallic monster to her.
Patrick Napier was a pedophile interested in Charlie Pendleton. Although it is unclear what happened in Charlie's final moments, it is possible he was molested by Napier, who proceeded to drown Charlie in a lake.
Silent Hill film series
In the first film, Alessa Gillespie was molested as a child by her school's janitor, Colin. The Dark Nurses also appear to be quite sexualized, showing cleavage, although it is not explained why this is. In a scene in which Red Pyramid stabs through a door at Rose and Cybil, the Creepers represent sperm entering the vagina of a rape victim, a clear reference to Alessa's rape at the hands of the janitor.
In the sequel, the original script had a scene planned between Sharon Da Silva between Vincent Cooper but it was removed from the final film, mentioning, "He leans in to kiss her and tentatively at first but then with increasing passion. Heather responds with her own desire and need..." Although it is unclear what happened, it is possible Sharon and Vincent had sex. In the final version of the movie, it is suggested there is still some sexual tension between the two, the most explicit when Vincent gives her a kiss and Sharon does not retaliate, possibly due to being attracted to Vincent herself.
During one point in the movie, Sharon encounters the Mannequin Girl exposed on a table. She is transformed into a naked mannequin.
Comics
At the beginning of Past Life, Issue 3, Jebediah Foster wakes up in bed with Helene Leek.
Trivia
Although Silent Hill: The Arcade does not have a prominent sexual theme, the Mama monster has a rather sexual design for unclear reasons.