Sexuality is a common motif in Silent Hill. The theme appears in nearly every game in some form or another, being more prominent in Silent Hill 2 and Silent Hill: Origins, with Silent Hill: Homecoming having the same theme as well. It is mostly absent from the first game and Silent Hill: Downpour.
Silent Hill 2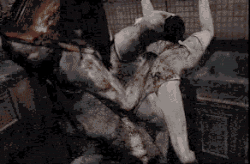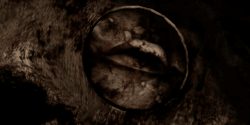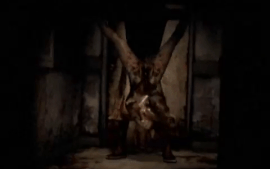 The theme of sexual frustration was first introduced in Silent Hill 2, in which James Sunderland's wife was hospitalized for three years due to a debilitating illness. During these years he watched his wife grow weak, bitter and, in her own words, ugly. This naturally had a profound impact on their sexual lives.
The frustration due to the lack of sexual activity between them manifested through the Bubble Head Nurses and almost all monsters in the game. The scene in which Pyramid Head appears to "rape" Mannequins, and later, a Lying Figure, allude to this. 
The character Maria can also be seen as an extreme manifestation of sexual desires. Maria is healthy, beautiful, cheerful and vibrant. She is everything that Mary was not near the end of her life. Maria represents the type of woman James wishes Mary was and he ends up trying to replace Mary with her in the "Maria" ending.
The Flesh Lip is a possible representation of labia (vaginal lips)
Angela Orosco was also raped by her father and brother, a victim of her family's sexuality. Her trauma is manifested as the monster Abstract Daddy.
The theme also appears in Fukuro.
Silent Hill 3
In Silent Hill 3, the theme is present, though it manifests mostly in the form of the god forming within Heather Mason's uterus. Heather being pregnant against her will is symbolic of rape. Heather is a teenager and may be struggling with her own sexual feelings, while the part of her that is Alessa Gillespie knows the dangers of men.
The possible appearance of the Fukuro Lady and the Brookhaven Nurse can also be considered sexual, seeing both being abused at some points, the later being abused or caught and exploited by Valtiel on many occurrences.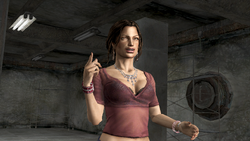 Cynthia is shown as being promiscuous. Even at the age of thirteen, she was already going to night clubs. When she enters what she thinks is a dream, she promises Henry, the first man she meets, a "special favor" if he helps her.
Silent Hill: Origins
The theme is much more prominent in Silent Hill: Origins than in past games, save for Silent Hill 2. Protagonist Travis Grady is a troubled trucker tormented by his past. When he was a child, his mother went insane and tried to murder him. As an adult, his problems with women becomes apparent. A fellow trucker tells him that he needs to find himself a nice girl, implying he doesn't have much contact with them. Monsters are noticeably affected by this, the Faceless Nurses being the most obvious, as well as the Two-Backs. Also, Lisa Garland plays a role in this, as she flirts playfully with Travis at times and it is implied that she and Michael Kaufmann have sex.
The Butcher also portrays his sexual frustration, as the creature can be seen slicing through the reproductive organs of his victims, specifically the sexualized monsters. It is unclear whether Travis once was a serial killer and committed these acts, or if the Butcher is merely a manifestation of his inner demons.
Silent Hill: Homecoming
After an accident on the lake that kills his brother, Alex Shepherd goes into a state of psychological repression. For this, as well as other reasons, he is institutionalized.
During his time, he creates the delusion that he was a soldier, believing that he was in a hospital for wounded soldiers, rather than a mental hospital. He imagines that the nurses wear revealing clothing to comfort the soldiers. The Nurses in the game have noticeable cleavage and have a growing fetus in their womb, heavily symbolizing birth, which is a very powerful theme in the game.
Alex speaks fondly of the girls back in his hometown of Shepherd's Glen, as well as making reference to buxom females he sees during his tour of duty, suggesting that he is somewhat sexually frustrated.
Scarlet Fitch died as a little girl, yet in her monstrous form she has full breasts. They may be there to represent how she will never grow up to be a complete woman, physically or sexually.
Nora Holloway's monstrous form also bears many pairs of breasts. When Nora died, she was a teenager. The overwhelming amount of breasts as well as the vaginal area being covered may represent how she will never get to experience the pleasures and physical aspects of womanhood.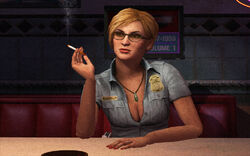 Unlike all other games in the series, there is a very real possibility for the protagonist to become a sleaze, which influences the ending. Harry Mason can look at pictures of half-naked women and act sleazy and promiscuous, and this will affect how the game progresses and the ending as a whole. Depending on his Psych Profile, characters can become sexualized such as Cybil Bennett.
In the "Sleaze and Sirens" ending, it is revealed Harry cheated on his wife with Lisa Garland and Michelle Valdez.
Psychiatrist Michael Kaufmann also asks Cheryl Heather Mason many sexual questions, and in the end, he claims she has "abnormal sexuality" no matter what the player answers.
Community content is available under
CC-BY-SA
unless otherwise noted.