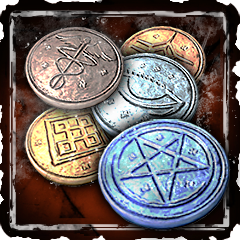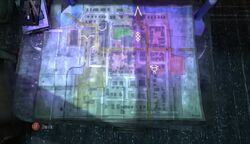 Shadow Play is a sidequest that appears in Silent Hill: Downpour. Inside the building on the northern border of Chastain Heights, there will be a large map of the area on a table in the center of the room. There will be two candles next to the map; after lighting them with a lighter, they will reveal some hidden symbols giving a subtle clue to the puzzle.
Quest solution
This quest revolves around finding five hidden fragments around Silent Hill and using them on nearby pedestals. After use, Murphy Pendleton has to switch between his forensic flashlight and regular flashlight in order to match the symbol with the shadow from the fragment, making sure to rotate the fragment when needed. Once matched correctly, the fragment will turn into a token which can be picked up.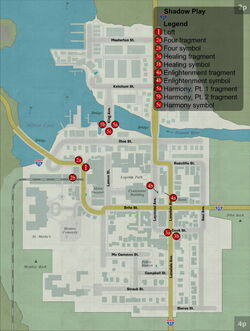 Below is the location of all fragments and the method of turning them into tokens: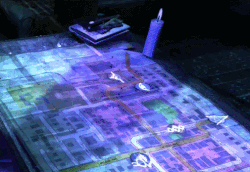 Go back to the building where the map is and place the coins on the map, matching each coin to their corresponding symbol. When this is done correctly, a statue of a demon will appear on the table and the quest will be completed.
Trivia
Completing the sidequest unlocks the achievement/trophy, "What's Your Sign?"
The map of Silent Hill seen in this sidequest has some inaccuracies, such as Lamon Street intersecting Rice Street, absence of Monroe Cemetery and St. Maria's Monastery located closer to the Mirror Cove.
Gallery