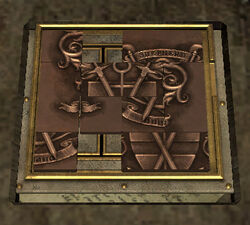 This article is a guide for a Silent Hill: Homecoming puzzle.
The Shepherd Emblem Puzzle is a puzzle found within the Shepherd House in Silent Hill: Homecoming. It is located in the attic of the house, in a room hidden behind a bookshelf. It must be solved in order to obtain Adam Shepherd's letter and a map of Silent Hill. The puzzle consists of sliding blocks that must be rearranged to form the Shepherd family's emblem. Once solved, the desk is unlocked and opens up to reveal the items.
Solution
The puzzle is in the design of a sliding block puzzle, consisting of nine pieces; three long pieces, two tall pieces and four small squares. There is a limited amount of the space in which the pieces can move, but the player can move the pieces as much as needed. The provided solution is optimal (it uses a minimum number of necessary steps). Immediately after correctly arranging the blocks, the desk with the puzzle opens. Should the player make a mistake and want to revert the puzzle to its original arrangement, the game must be reloaded.
Gallery