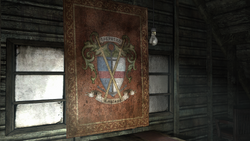 The Shepherd Family is one of the four founding families of Shepherd's Glen, whose original founding member was Isaac Shepherd, who the town is named after. They were given the duty of Master of Arms and were to sacrifice their children to the water by drowning. This was done to maintain the pact held with the Order and their god. As shown by the mural, they came from England.
Emblem
"
In the pursuit of creating a more perfect Way, rules must be followed and rules must be enforced. Any member who ignores this command shall be dealt with swiftly and in view of all. This shall ensure continued prosperity. It is, therefore, imperative that the effective Master of Arms not waive in the responsibility of enacting this power until his last day in this life. In God's name, so shall it be.
"
The Shepherds' emblem depicts two crossed swords placed in front of a boat anchor. The swords could relate to Adam Shepherd's position in the military. The boat anchor could also relate to the method of sacrifice used by the family: drowning.
Members
Isaac Shepherd (1820 - 1882)
Daniel Shepherd (son of Isaac) (1848 - 1853)
William Shepherd (1864 - 1889)
Catherine Shepherd (married into family, wife of William) (1865 - 1889)
Stephanie Shepherd (married into family, wife of David) (1875 - 1899)
David Shepherd (1876 - 1910)
Michael Shepherd (son of David and Stephanie) (???? - ????) (died at 9)
Edward Shepherd (son of David and Stephanie) (???? - ????)
Thomas Shepherd (???? - 1903)
Rebecca Anne Shepherd (daughter of David Shepherd and Martha Shepherd) (195X - 1953) (died as a baby)
Adam Shepherd (1954 - 2007)
Lillian Shepherd (married into family, wife of Adam) (1959 - 2007)
Alex Shepherd (son of Adam and Lillian) (b. 1985)
Joshua Shepherd (son of Adam and Lillian) (1994 - 2003)
Trivia
The relation between Mary Shepherd-Sunderland from Silent Hill 2 and the Shepherd family is unknown. When Tomm Hulett was asked about this relation in an interview, he said that he wasn't entirely sure; he believes it is probably a coincidence.[1] However, the story and character names were decided before Tomm Hulett joined Konami, so there is no clear definitive answer to this. In a promotional diary for the game, Alex asks, "Was she related to me?".[2]
See also
Community content is available under
CC-BY-SA
unless otherwise noted.