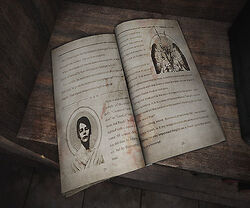 Silent Hill's Ancient Gods: A Study of Their Etymology and Evolution is a book found in the chapel's library in Silent Hill 3, alongside another one about tarot. When examining it, Heather Mason will state that the book's title is "a mouthful".
It gives a brief historical explanation of the origin of the Order's god and their system of beliefs, as well as an insight on syncretic religions.
Transcript
"There is no religion that has
remained unchanged from the
moment it was founded.
This one is no exception.
When this religion fell into the
hands of immigrants, it was deeply
influenced by their own original
Christian beliefs.
For example, the traditional
representatives of these primal
gods may be given the names and
descriptions of Christian angels.
Thus, shared characteristics begin
to appear.
(There is also one rare example
of the chief deity, 'Creator of
Paradise' or 'Lord of Serpents
and Reeds', being dubbed with
a demon's name. Of course, this
was not done by believers, but
by their opponents.)"
Trivia
The "demon's name" mentioned in the memo may be Samael, also known as Incubus. There is a document in Silent Hill: Origins referring to the Order's god as Samael. The Order is never explicitly seen calling the god that (apart from Dahlia Gillespie vaguely referencing the "Mark of Samael", or Seal of Metatron as it truly is), but it's speculated that this document in Origins was written by an outsider. In context, it would make sense that Dahlia would refer to her own god as Samael in the first game (and also appear in a Christian church) because she wants to fool Harry Mason into believing she is not a cultist.