These are the Secrets and Unlockables in Silent Hill: Homecoming.
Secrets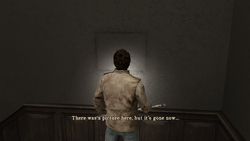 Some of the books in the Shepherd House seem to have odd titles, although they are extremely blurry and difficult to read. They appear to include "A Book Title", "An Interesting Book Title", "The Collective", "Harry Got His Gun" (a reference to "Johnny Got His Gun"), "Life is a Bore", "Rocket Science for Dummies", and "Anal Sex for Dummies".
Achievement references
Several of the Achievements unlocked through the course of play reference previous Silent Hill games.
Graffiti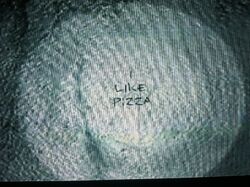 Graffiti appears written in every cell in the Overlook Penitentiary. A number of them appear to be random sayings, but some appear to reference previous Silent Hill games and others break the 4th wall by referencing other media.
Noah's viking tool
It's snowing outside. Jacobs, are you making it snow?
Please don't kill me
Steve loves puzzles
Moso forever
Hell here
Jeremy is the real sausage king of Chicago (a reference to a plot point in the 1986 film Ferris Bueller's Day Off )
Somewhere down there is your soul
My cell has something from everyone else's cell
I am Edma
I'm as quiet as can be, just my cell and me
Capt Coatrack shall return
Look behind you
Jaehocn needs to stop talking seriously
Willette you live a little longer
My name is Pat so take that
Trust yourself
I am the real khoi
Who are you?
Jafo is watching you
Too late
The zarzoo minds man
Ryan has been lyin', now he's dyin'
I like pizza
Drink the evil
Kill yourself
Something's happening
Boyle?
Beware of Hurricane Jane
Give it back
I am the walrus (a reference to a Beatles song)
Farm team will always rule
Confess now
Rob will kill you, Slater
It's raining, Mike, it's raining
Chris loves small cars
Lindz is in ur jails, writing on ur walls
The horror...
Hide the creature inside you
Where's Kristian?
Murty in the DM
Abandon hope
I'm sure the electric chair is coming for me
It's all Greek to me panos
I rob banks for the loot, now I wait in despair for the boot
Eric fights a doppelganger
Smithy loves games so shut up
Sell your soul
You can not kill me
I used to move buildings around, now I cry on the ground
The Nate Dawg cometh
Tmass is broken
U R dead
Kevin & Crystal sittin in a tree
Show me your heart (a reference to Walter Sullivan)
Berhns returns
You're not here (a reference to the song by Akira Yamaoka from Silent Hill 3)
You see monsters? (likely a reference to Vincent Smith's infamous response in Silent Hill 3)
Don't fear the greenman
Help me, please
Gonna haak you up
I fish in my toilet with no luck; I bet one day I get my head stuck (a hint at the health drink in the toilet)
Murray ate my craeme crackers
Billy Willy in his cell, Billy Willy rotting in hell
Troy is a good person, but a terrible movie (possibly a reference to the 2004 movie adaptation of Troy)
Surreality, what a concept
Unlockables
Endings
Smile: Kill Lillian, forgive Adam, save Wheeler
In Water: Kill Lillian, don't forgive Adam, don't save Wheeler
Judgement: Don't kill Lillian, don't forgive Adam, don't save Wheeler
Intensive Care: Don't kill Lillian, forgive Adam, save Wheeler
No Dogs Allowed: Don't kill Lillian, don't forgive Adam, save Wheeler
Bonus Scene
This extra scene can be obtained after the Good ending in one of two ways: The player can either beat the game on HARD, or collect every photograph in a single playthrough. If these tasks are met, then after the credits roll, Alex will, from a first-person perspective, climb the stairs leading to his room in the Shepherd House. Joshua will be sitting on the bed, holding a camera. He laughs and takes a picture of his brother.
Costumes
With each new ending obtained, one of five costumes will be unlocked, depending on the ending achieved. There are, however, six costumes in all. A special costume can be obtained by inputting the Konami Code, a cheat code that appears in games developed and/or published by Konami.
Big Rig Alex: Clothing similar to that worn by Travis Grady. This costume can be unlocked once one beats the game with the "Good" ending.
Order Soldier Alex: The same mining uniform that Alex dons at the end of Church of the Holy Way. This costume can be unlocked after the game is beaten with the "Drowning" ending.
Bogeyman Alex: This costume can be unlocked after the "Bogeyman" ending takes place.
ER Alex: This costume is unlockable after the "Hospital" ending transpires.
Deputy Alex: This costume can be unlocked once the "UFO" ending is obtained.
Young Alex: This is the costume unlocked via the Konami Code.
Weapons
Once the game is completed, and depending on the ending, a pair of new weapons become available.
Circular Saw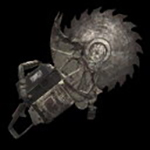 Main article: Circular Saw
To receive this weapon, simply beat the game once and save the file. It is found in the Shepherd's garage on the next playthrough.
Laser Pistol
Main article: Laser Pistol
To receive this weapon, beat the game and obtain the UFO Ending and save the file. It is found in Alex's room on the next playthrough.
Achievements
Exclusive to the Xbox 360 version of the game, Achievements are rewards earned for meeting a specific goal. Below is a list of obtainable achievements and what must be done to earn each.
| | | | |
| --- | --- | --- | --- |
| Picture | Name | Description | Points |
| | Lock 'n' Load | Found Rifle | 25 points |
| | Sightseeing | Found 1 Photo | 10 points |
| | Josh's Gallery | Found ALL Photos | 50 points |
| | Alchemilla's Finest | Defeated 1 Nurse | 10 points |
| | Eddie's Legacy | Defeated 1 Feral | 10 points |
| | Lurk No More | Defeated 1 Lurker | 10 points |
| | To The Point | Defeated 1 Needler | 10 points |
| | Split Personality | Defeated 1 Schism | 10 points |
| | Shades of James | Defeated 1 Siam | 20 points |
| | Clear the Air | Defeated 1 Smog | 10 points |
| | Creeper Reaper | Defeated 1 Swarm | 10 points |
| | Out of Order | Defeated 1 Order member | 10 points |
| | Kaufmann's Handiwork | Found 1 Serum | 10 points |
| | Health Junkie | Found ALL Serums | 50 points |
| | The Old Gods Haven't Left This Place | Complete game on HARD difficulty | 100 points |
| | Nursery Rhymes | Found all of the Children's Drawings | 50 points |
| | Six Feet Under | Defeated Sepulcher | 50 points |
| | Blood Donor | Defeated Scarlet | 50 points |
| | Catch Your Breath | Defeated Asphyxia | 50 points |
| | Head Above Water | Defeated Amnion | 50 points |
| | Rising Tension | Found Circular Saw | 25 points |
| | Science Fiction | Found Laser Pistol | 25 points |
| | Smile | Achieved Good Ending | 50 points |
| | In Water | Achieved Drowning Ending | 50 points |
| | Judgement | Achieved Bogeyman Ending | 50 points |
| | Intensive Care | Achieved Hospital Ending | 50 points |
| | No Dogs Allowed | Achieved U.F.O. Ending | 50 points |
| | Mercy | Alex ended his mother's suffering | 20 points |
| | Compassion | Alex could not end his mother's suffering | 20 points |
| | Forgiveness | Alex forgives his father | 20 points |
| | Angela's Choice | Alex does not forgive his father | 20 points |
| | Now About Those Drinks | Saved Wheeler | 25 points |