Silent Hill: The Arcade is an arcade game based on the Silent Hill survival horror series by Konami. The game was developed by a branch of Konami's Japanese department in conjunction with a few members of Team Silent. It was released in Japan in July 2007 and in Europe/Australia in 2008 on several arcade cabinets. It uses elements from Silent Hill 2, Silent Hill 3, and Silent Hill 4: The Room such as locations, monsters, and music.
The Arcade has currently never been officially ported to consoles or on PC, thus the game is rare. However, in February 2014, it was unofficially ported to PC by fans, although setting up the game may be difficult due to hardware incompatibilities that may result in game-breaking glitches like invisible enemies when playing on AMD CPUs/GPUs.
Plot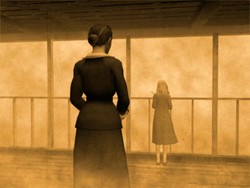 Toluca Lake is Silent Hill's main tourist attraction, but this clear, beautiful lake has another side as well - many corpses rest at the bottom. Their bony hands reach up towards the boats that pass overhead; perhaps they reach for their comrades.
In November 1918, a very sickly girl and her mother were traveling on the boat. The girl was enjoying the sightseeing, but her mother had other thoughts: "Hanna..." Immediately after the mother called her daughter, the boat's captain witnessed a miserable end. The boat, Little Baroness, never returned. The crew and passengers, numbering at 14, met a horrible fate, and there were no survivors or bodies found.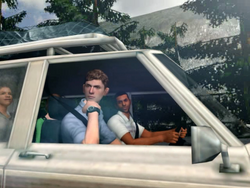 Seventy-five years later, in 1993, Eric, Tina, Bill, Jessie, Ryan, and George, members of their university's occult club, head to Silent Hill for its many stories, particularly about the bodies sleeping beneath Toluca Lake. Having a strong interest in the rumors, they took the weekend holiday and went to Silent Hill. They stayed at Jacks Inn, and Eric experiences a terrible nightmare. The next morning, Eric exits the inn and discovers Bill wounded with the rest of the club missing. Eric and Tina decide to search the foggy town for answers.
They go to Brookhaven Hospital, and as they enter, they encounter a blonde-haired girl very similar to Tina's friend Emilie Anderson, albeit named Hanna. Eric and Tina chase her through the hospital. A boat's fog horn transitions the hospital to the Otherworld, and Eric and Tina discover Jessie being assaulted by Pyramid Head. They successfully defeat Pyramid Head and head to the roof, where they discover Emilie being guarded by a flying monster, Tuberculosis. They best the beast, and the world transforms back. Emilie and Tina embrace, and Emilie tells her that she lost her mother on the way to Toluca Lake.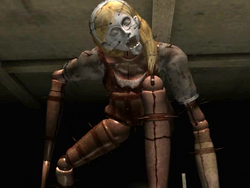 Emilie brings Eric and Tina to the Silent Hill Historical Society, which her father, Frank Anderson, manages. Inside, Eric reveals to Tina that his great grandfather used to be the captain of the Little Baroness. The fog horn occurs again, and the group is sent to Toluca Prison. In the prison's gallows, Eric pulls down a body-bag which transitions the prison courtyard to Toluca Lake. They conquer the Split Worm, and when the world transitions back, Eric and Tina discover their rescued friend Ryan in the body-bag. Continuing on, the group reaches the labyrinth and overpower a marionette monster known as Mama, saving their friend George.
The group emerges at Toluca Lake. Emilie hears her mother's voice calling to her, and she runs to the shore and enters the Little Baroness. Eric and Tina chase Emilie into the ship, only to discover that it has converted into Central Square Shopping Center. They enter Hazel Street Station, which is connected to the mall, and make it to Lakeside Amusement Park. Upon reaching the Happy Carousel, a flashback occurs where Emilie reveals that her mother has been haunting her dreams and has been calling her to the lake. Eric and Tina are transported to Brookhaven Hospital, where a radio transmission reveals Emilie's mother was murdered during a burglary, and then to Silent Hill's woods where they defeat Pyramid Head again.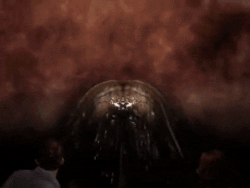 Eric and Tina find themselves at the Spiral Staircase, called "19181993", symbolizing that they are being pulled through time to the year 1918, when Hanna was alive. Upon reaching the bottom of the staircase, Eric and Tina board the true Little Baroness, where Emilie and Frank are. Emilie hugs Hanna's mother Lorraine, who she believes to be her own, but her father reveals to her that that isn't her mother considering her mother is already dead. Lorraine's hands go through a monstrous transformation, and she throws Emilie overboard into the lake while a flashback reveals Hanna's mother did the same to Hanna, and right after drowning her daughter, the Little Baroness sank. Eric and Tina dive into the lake and at the bottom, encounter a grim-looking Hanna who evolves into a powerful monster known as the Phantom.
Endings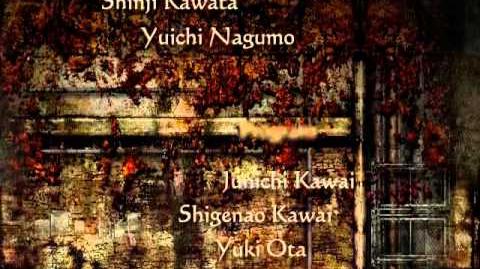 Good Ending - The Phantom is finally destroyed, and Emilie reappears. Tina goes to check if she's okay as Eric notices that Phantom's arm is starting to sink into the lake. Emilie awakens and hugs Tina while the Phantom's arm fades away to reveal the arm of Hanna. Eric grabs hold of Hanna's arm, and manages to pull her out of the water. Hanna tells Eric that she was trapped in the water for a very long time; Eric assures her that the nightmare is over now and comforts her as she cries on his shoulder. The scene changes to show Hanna back on the boat, crying as the captain goes to comfort her. Hanna reunites with her mother, and Eric sees his great-grandfather, the captain of the boat, nod to him just before the Little Baroness sails away, vanishing into the mist. Eric and Tina look over at Emilie, who has reunited with her father, and Tina asks Eric if she thinks Hanna was able to find her mother, to which Eric replies, "Of course." The player gets this ending if they shoot all the hands off Phantom and manage to save all of the friends they have to rescue throughout the game. The ending theme is "Promise".
Normal Ending - The Phantom is destroyed, and like in the Good ending, both Emilie and Hanna are saved. However, when the Little Baroness sails off, Eric does not see his great-grandfather. Tina asks Eric where everybody is, but Eric doesn't answer. The captain consoles Hanna on the Little Baroness, and she reunites with her mother. The player gets this ending if they shoot all the hands off Phantom but fail to save all three of the friends they have to save. The ending theme is "Hometown".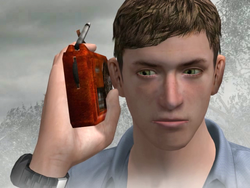 Bad Ending - The Phantom is destroyed and Emilie reappears. However, Emilie does not awaken as Tina calls her name, and Eric watches as Hanna's arm sinks into the lake, fading away before he can reach her. Eric finds himself in a foggy area where no one else seems to be around. He picks up a radio laying nearby, and hears Hanna's voice: "Why didn't you rescue me?" The player gets this ending if they do not shoot the hands off Phantom during the final boss fight.
UFO Ending - Eric is greeted by his great-grandfather. The captain says that the UFO is his new ship and that if Eric and Tina want Emilie and Hanna back, they will have to "come chasing after him... to the end of the universe!" Eric and Tina set off in another ship (the Vic Viper from Gradius) and chase after him. During the credits roll, Robbie the Rabbit is seen playing the NES version of Gradius, in which Eric and Tina are flying after the captain's UFO.
Gameplay
The gameplay is a rail-shooter where the players use light-guns to aim and shoot enemies while the characters' movements are mostly prescribed and directed by the game. Being a rail-shooter, it requires the players to be strong on reflexes, as the camera may turn away at any point to focus on a more immediate threat that only offers a short time frame for attack.
The mechanics closely resemble Sega's The House of the Dead series, where players have to shoot outside of the screen to reload their weapon as well as target bosses at their specific weak points for increased damage. The player has a life meter with a value of 100 or 150 (depending on the difficulty level) which drops by different values depending on the severity of the damage impact. The life meter is designed as a heart monitor, showing a weaker heart-rate as the players receive a significant amount of damage. Health can be restored by finding health drinks and first aid kits, which have health values of 10 and 30, respectively.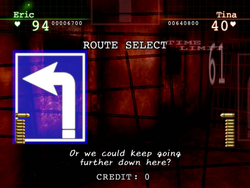 Alternate routes are provided in Brookhaven Hospital and Toluca Prison and can sometimes lead to easier routes or stronger weapons, such as the shotgun or rifle. At brief intervals, the player must choose the route before the time limit expires. The alternative routes do not offer a substantial variation in the gameplay, with players likely to seek the more viable route each time to attain quicker progress or a better score. There are gold coins and silver coins throughout each level to increase the score.
The game is divided into chapters to track progress, with each one divided further into stages, normally with a boss to defeat at the end of the third stage. Most boss battles have a time limit to defeat them in order to save a friend of Eric's and Tina's. Failing to save Eric and Tina's allies affects the overall outcome of the game and is more than likely to decrease the overall grading system.
In Asia (Hong Kong, Japan, Singapore, and Taiwan), a special e-Amusement Pass can be used, which includes Internet Ranking and allows the player to skip stages on which they had previously played.
Chapters
1-1: Streets of Silent Hill
1-2: Brookhaven Hospital 1F, 2F
1-3: Brookhaven Hospital 3F, roof
2-1: Silent Hill Historical Society, Toluca Prison
2-2: Toluca Prison
2-3: Labyrinth graveyard
3-1: Central Square Shopping Center, subway car, Lakeside Amusement Park
3-2: Brookhaven Hospital, Wish House Orphanage
3-3: Spiral Staircase, Little Baroness
Below are map layouts, listing all pauses for monster fights, alternate routes, items, and weapons, and UFO sightings. Green sections are in the Fog World, and red sections are in the Otherworld.
Reception
Overall, the game was considered enjoyable as a classic shoot-'em-up game, though considered "out of place" when compared with the style of gameplay the main series of games had used, replacing subtle psychological horror with aggressive gun action.
Some of the voice acting also received some criticism. The game is also only about an hour long, due to the nature of being an arcade cabinet located in an arcade, as some people may be forced to wait in line to experience the game.
Use of the various locales and bosses familiar with the fans, and with the inclusion of the Otherworld, was one of the game's main highlights, as well as the expansion to the story of the Little Baroness.
Current locations
Know where The Arcade can be found? Then please update or remove this list! Please add the city, add a hyphen (-), and then the name of the arcade/location it can be found.
Please note that it's possible for The Arcade to be removed at a location. It is a good idea to phone the arcade for confirmation.
North America
Puente Hills, California - Round 1 Entertainment Inc. (near Lakewood Center)
Santa Ana, California - Round 1 Entertainment Inc. (In Westfield Main Place Mall)
Brookfield, Illinois - Galloping Ghost Arcade
Grapevine, Texas - Round 1 Entertainment Inc. (Grapevine Mills)
Stonecrest, Georgia - Round 1 Entertainment Inc. (Stonecrest Mall)
Europe
Chasseneuil-du-Poitou, France - Futuroscope theme park
Málaga, Spain - Divernostrum Arcade (In Málaga Nostrum Mall)
Salou, Spain - PortAventura theme park (Unknown - may be removed)
Bridlington, United Kingdom - Forum Arcade
Australia
Melbourne, Victoria - Galactic Circus
Eurasia
Festival Mall Alabang - Philippines
Amazone Blok M Plaza - Jakarta, Indonesia (Currently under maintenance)
Amazone Grand ITC Permata Hijau - Jakarta, Indonesia (Unknown - may be removed)
Japan
Trivia
The Little Baroness was first mentioned in Silent Hill 2 in an article found in Toluca Prison.
Since Pyramid Head is a symbol of punishment, he could be a representation of someone else's guilt (possibly Lorraine/Frank/Captain) and not the main characters'. Lorraine may feel guilty for drowning her daughter Hanna, and Frank may feel remorse for being unable to save his wife Michelle from being murdered. Captain may feel repentance for letting the Little Baroness sink and letting the passengers die.
The Spiral Staircase first appeared in Silent Hill 4: The Room as a representation of Walter Sullivan's inner mind.
Guy Cihi, the voice actor of Silent Hill 2 protagonist James Sunderland, once played the game.[1]
External links
Videos
Gallery
Art and cabinet
Screenshots
Community content is available under
CC-BY-SA
unless otherwise noted.