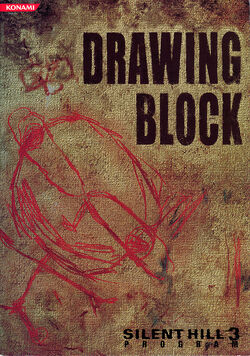 The Silent Hill 3 Program is a 46-page document that was given as a bonus with the "limited edition" of Silent Hill 3 in Japan. The Lost Memories DVD and two posters were included as well.
The front cover is a recreation of Cheryl Mason's Drawing Block. The back cover reads "Drown In Black" in the same typeset.
Contents
Silent Hill 3 Prologue (pg.1-2)
Silent Hill 3 Cast Profile (pg.3-8)
Silent Hill 3 Introduction (pg.9)
Story of Silent Hill 3 (pg.10)
Silent Hill 3 Playing Guide (pg.11-12)
Silent Hill 3 Rough Sketch (pg.13-14)
History of Silent Hill (pg.15-18)
Silent Hill (pg.15-16)
Play Novel: Silent Hill (pg.16)
Enjoy the depth of Silent Hill from Cybil's perspective

As the title suggests, Silent Hill can be enjoyed as a novel-styled adventure game. The game is ideal for those who want to experience the story of Silent Hill but aren't very good at action games, etc. The player can select Harry's story, which is the same as the PlayStation version, or the female cop Cybil's story. As Cybil, the player experiences a fresh take on the story as they view Harry's actions through her perspective. There are also new things to discover that were left unknown in Harry's story. Another new scenario titled "A Boy's Story" was distributed over a signal (which is no longer available). "A Boy's Story" featured 4 different stories based on the seasons (Spring, Summer, Autumn, and Winter) and starred Harry's next door neighbor, Andy. Players were able to delve even deeper into Silent Hill with his story. There are also a set of collectible CGs known as "Digital Trading Cards". It's possible to collect 32 cards while progressing through the game. There were also rare cards that could only be obtained by clearing "A Boy's Story".
シビルの視点でより深くサイレントヒルを楽しむ事ができる

ゲームタイトル通り、ノベル形式のアドベンチャーゲームとしてサイレントヒルが楽しめる。アクションゲームが苦手な人や、シナリオを楽しみたい人にはぴったりの作品だ。シナリオはプレイステーション版と同じハリー編か、女性警官のシビル編が選べる。シビル編では、シビルの視点からハリーの行動を見ることができるのが新鮮だ。ハリー編では分からなかったことや、新たな発見もできる。また、通信を利用して少年編という新たなシナリオの配信も行われていた(現在は終了)。少年編は春夏秋冬の4編からなり、主人公はハリーの家の隣に住む少年アンディ。サイレントヒルを、より深く楽しむことができるシナリオになっていたのだ。また、このゲームではデジタルトレーディングカードとよばれるCGを集めることができる。ゲームを進めることで32枚のカードを手に入れることが可能。中には少年編をクリアしないと手には入らないレアなカードもあったのだ。
Silent Hill 2 (pg.17-18)
Silent Hill 2: Elegy (pg.18)
Blood of Silent Hill (pg.19-20)
Silent Hill Series Playing Guide (pg.21-22)
Silent Hill (pg.21)
Silent Hill 2 (pg.22)
Silent Hill 3 (pg.22)
Special Interview (pg.23-36)
Producer Akira Yamaoka (pg.23-24)
Scenario Writer Hiroyuki Owaku (pg.25-26)
Art Director Masahiro Ito (pg.27-28)
Graphic Engine Programmer Norihito Hatakeda (pg.29-30)
Character Model Chief Designer Shingo Yuri (pg.31-32)
Sound Director Akira Yamaoka (pg.33-34)
Team Silent Hill 3 (pg.35-36)
Background Model Chief Designer Yasunori Kanetake (pg.35)
Character Model Designer Minako Asano (pg.36)
Character Model Designer Sachiko Sugawara (pg.36)
Background Model Designer Motomi Minowa (pg.36)
Character Programmer Yuki Mizuochi and System & Creature Programmer Hidehisa Harada (pg.36)
Drama Chief Designer Tomohisa Koike (pg. 36)
Assistant Eri Kuwano (pg.36)
Silent Hill Series Description (pg.37-38)
Silent Hill Series Arms Index (pg.39-40)
Silent Hill (pg.39)
Silent Hill 2 (pg.39)
Silent Hill 3 (pg.40)
Silent Hill 3 Creatures (pg.41-45)
Credits