The Silent Hill Docks are located in the Resort Area of Silent Hill, north of Toluca Lake. They are visited for the first time in Silent Hill and later, a possible extension of them, are visited in the re-imagined Central Silent Hill district of Silent Hill: Homecoming. They also re-appear in the remodeled town of Silent Hill: Shattered Memories. The docks have a decent boat capacity and are used for the docking of the fishing and other types of small boats that sail on Toluca Lake.
Silent Hill
Harry Mason first visits the area while subjected to the Otherworld shift, and thus it is never seen nor visited in the Fog World. The area is crawling with Groaners, Air Screamers, and Rompers, and very few items are lying around. No stores or shops can be entered except for a boathouse, and later, the lighthouse.
In the boathouse, Harry encounters Cybil Bennett a third time and are soon joined by Dahlia Gillespie, who instructs Harry to go to the lighthouse and the Lakeside Amusement Park in a last act of defiance against Alessa Gillespie's powers. Dahlia leaves, Cybil makes her way to the park, and Harry visits the lighthouse but finds he is apparently too late to do anything. Harry then descends into the sewers, following Cybil's path to the park.
Silent Hill: Homecoming
As the region has been re-designed in the game, the docks can now be found in Central Silent Hill, east of Sagan Street, opposite of the Dargento Cemetery. They're built right on the shores of Toluca Lake. Alex Shepherd washes up on the docks after being attacked by the Order and also when he is separated from Deputy Wheeler and Elle Holloway while on a police boat en route from Shepherd's Glen to Silent Hill.
Silent Hill: Shattered Memories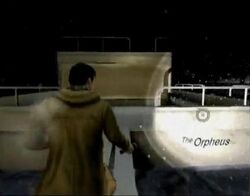 The docks reappear yet again in the drastically altered town in the game, itself a re-imagining of the first game's storyline. As such, the docks are located back in the Resort Area, and Harry Mason visits them towards the end. They consist of two wharves and a few closed shops; the last few mementos can be found nearby, as well as the Lakeside Amusement Park.
The boathouse encounter is also re-worked into the game: this time around, Harry does not meet Cybil, but a younger version of his estranged wife, Dahlia Mason (a re-visualization of Dahlia Gillespie). The boathouse (known as The Orpheus) is apparently her property, and the two have sex while on a set course towards the lighthouse (which is now Michael Kaufmann's clinic). However, the lake freezes as the Ice World takes over, and the Raw Shocks appear in a final attempt at stopping Harry from learning the truth.
Gallery
Community content is available under
CC-BY-SA
unless otherwise noted.