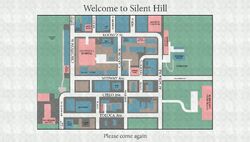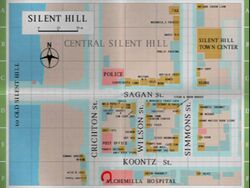 Simmons Street is a road in the central part of the Central Silent Hill section of Silent Hill, seen in Silent Hill: Origins, Silent Hill, Silent Hill: Homecoming, and Silent Hill: Shattered Memories. Simmons Street connects Koontz Street and Sagan Street.
Silent Hill: Shattered Memories
After navigating through the abandoned Toluca Mall, Harry Mason heads for Simmons Street to continue his search for his missing daughter by checking a home on the street where he believes she may be. The home, number 1008, is a flat located above the Green Lion Pawn Shop, which Harry must first enter in order to gain access to the flat.
Community content is available under
CC-BY-SA
unless otherwise noted.