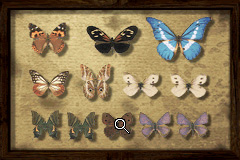 This article is a guide for a Play Novel: Silent Hill puzzle.
The Specimen Collection Puzzle is a puzzle that can be found in Harry Mason's scenario in the Play Novel: Silent Hill. It is located in Alessa Gillespie's room in Nowhere.
Solution
Harry must move the magnifying glass over the butterfly specimens to find the key. It is hidden under the bottom-middle butterfly.