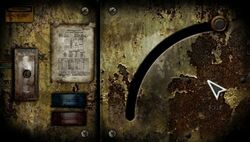 This article is a guide for a Silent Hill: Origins puzzle.
The Spotlight Puzzle is a puzzle found in Silent Hill: Origins at the Artaud Theater. Travis Grady must insert four light bulbs to return a voltage into the theater circuits in order to gain access to the stage.
Solution
Each light bulb differs in voltage, and they must be inserted correctly. The whole solution can actually be found in one note:
B has to be half the wattage of D; A+B must not exceed C; Wattage of D must not exceed A.
There are: 125W, 250W, 500W and 750W light bulbs, so:
A = 500W
B = 125W
C = 750W
D = 250W
After correctly placing the bulbs, the switch at the end of the catwalk can be pulled to turn on all the spotlights.