"
The only thing that doesn't make sense is your being here. You're upsetting my wife... Please get off my property.
— Mike to Harry
"
Mike and Lucy Stewart are a couple living in Silent Hill who appear in Silent Hill: Shattered Memories. They are married and have a daughter named Katie Stewart.
Silent Hill: Shattered Memories
Their roles are very minor and they currently live at 1206 Levin Street, Harry Mason's house when he was still alive. Lucy mentions that they have lived there for 14 years, meaning that they moved in four years after Harry's death. Harry accuses them of taking his daughter, causing Mike to shut the door on him.
Depending on the Psych Profile, Cybil Bennett mentions that Mike is a doctor or that they are both school teachers. Harry's behavior towards the Stewarts, and what they say to him, also depends on the Psych Profile.
Trivia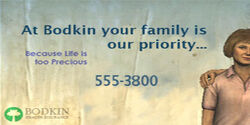 On a first playthrough, Lucy and Mike Stewarts' hands can be seen on a billboard advertising insurance above Theresa's near the beginning of the game.
The color of their house, car, and clothes are determined by the colors that are given in Dr. Kaufmann's second session.
Harry Mason receives several messages pertaining about a young man named Mike going to prom with a young girl named Caitlin. It is unknown if Mike from the messages is Mike Stewart or the fact they share the same first names is mere coincidence.
They have many resemblances with the Oldie family from The Sims 2, whose half-granddaughter is also named Lucy.
The Stewarts have a car that is the same model as Harry Mason's, and also has the same license plate number.
Gallery
Community content is available under
CC-BY-SA
unless otherwise noted.