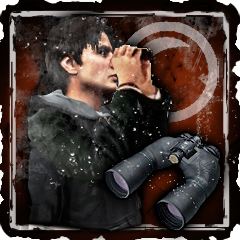 Stolen Goods is a sidequest in Silent Hill: Downpour. This quest is discovered as Murphy Pendleton is exploring the Hillside Apartments.
Quest solution
Murphy finds a letter on the door of a room on the third floor of the apartments, regarding stolen goods and a threat, stating that if the thief steals again, he will be hurt.
Inside a room nearby, Murphy finds a man hanging from a noose, presumably having committed suicide. Here, Murphy moves the man's bed to obtain the stolen goods. He can then return the stolen goods to the rightful owners. The stolen items are a locket, a watch, a money box, and a medal.
Where each item has to be returned is indicated by some kind of unsettling sound only heard once the items have been picked up:
The locket is placed on a desk where a woman can be heard crying opposite the thief's room.
In the room adjacent, the watch can be returned to a model of an arm where irate ticking is heard.
On the second floor, the money bank is placed on a desk where a child's crying can be heard, and also the sound of some coins jingling.
Finally, the war medal is put in a case in a room filled with the sounds of fighter planes and machine gun fire on the ground floor.
After returning an item, these sounds are replaced by something more pleasant, such as sighs of relief, children's laughter or a WWII-era marching band.
The reward for this quest is an alternative costume, consisting of a black hoodie and dark jeans. (Beware: many players have reported getting stuck between a bed and a pile of clothes while attempting to claim the costume.)
Trivia
Completing the sidequest unlocks the achievement/trophy, "Neighborhood Watch".
Gallery