GTA: The Criminal Enterprises - The Loop
Play Sound
The stun gun from Silent Hill 3
Description
"High voltage to zap the bad guys. It has to touch 'em, though, so it's very short-range."
Location(s)
Heather's Room (Silent Hill 3)
Water Prison 1st time (Silent Hill 4)
Appearances
Silent Hill 3
Silent Hill 4: The Room
Silent Hill: Book of Memories
The Stun Gun is a weapon found in Silent Hill 3, Silent Hill 4: The Room, and Silent Hill: Book of Memories. Used at short range, it can zap and knock down monsters for a brief period of time.
Silent Hill 3
In Silent Hill 3, Heather Mason owns one, which is retrieved from her room after slaying the Missionary. Upon examining it, she mentions that it was a gift from her "worrywart dad". She also mentions that she doesn't usually carry it because it's too bulky.
It consumes one battery per use. It isn't particularly useful for some monsters like the Slurpers and Double Heads, but it can be decent against the Nurses, Leonard Wolf, and Scrapers.
Silent Hill 4: The Room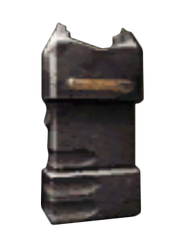 In Silent Hill 4: The Room, Henry Townshend may find one in a locked cell on the second floor of the Water Prison level. To access it, he must rotate the rooms on the second floor while doing the Bloody Bed Puzzle. It will be on the bottom corner of the table.
The stun gun has a short range, but as it immobilizes enemies upon contact, it makes it easy to switch to another weapon and finish them off. In harder difficulties, the stun gun is almost worthless due to the higher health level of the enemies. Unlike Heather's, Henry's does not need recharging.
Trivia
If Henry equips the stun gun in the room with the enormous version of Eileen Galvin's head and zaps it, the eyes will briefly flash.
Gallery