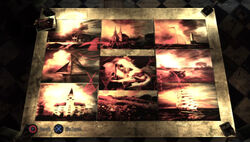 The Art Collector is a sidequest in Silent Hill: Downpour. To start this sidequest, Murphy Pendleton must head to Fenders Fine Art and Appraisals in Pearl Creek and examine the large table in the basement. The sidequest will involve finding multiple paintings around Silent Hill and then piecing them together on the table in a jigsaw-esque manner in order to form a map.
Memos in the gallery indicate that the curator, Melissa Matlan, had sought the paintings and went so far as to threaten their owners to collect them, though she had not deciphered their true meaning.
Quest Solution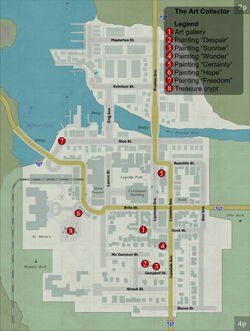 The first part of the quest involves finding 6 different pieces of artwork scattered around Silent Hill:
Once all six paintings have been located, Murphy must return to the gallery and to the table in the basement. Using the paintings, he can create a picture; once formed, the forensic flashlight can be used to reveal a map of the town. The map will indicate the location of hidden treasure in the Monroe Cemetery. The player should make note of the symbols on the map.
After arriving at Monroe Cemetery, find the entrance to the crypt; once inside there will be a gate with stone buttons, each etched with a strange symbol much like the ones mentioned earlier. The puzzle will be easier or harder dependent on difficult as it will give some pointers on easy/normal. On easy, one of the tiles will have already been activated and the second one will be covered in blood. On normal, no tiles will have been activated, but the first one will be covered in blood. However, on hard, there will be no clues so all symbols will have to be input from memory. If forgotten, below is a list of the order in which to use the tiles: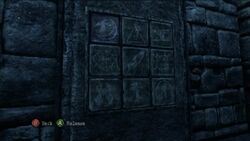 Upper left corner tile.
Center tile.
Lower left corner tile.
Lower right corner tile.
After solving this puzzle and making it past a Weeping Bat, Murphy will find shotgun shells, a tomahawk, and a first aid kit.
Trivia
Completing the sidequest unlocks the achievement/trophy, "Art Appreciation".
Gallery