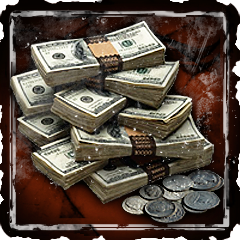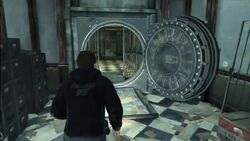 The Bank is a sidequest in Silent Hill: Downpour. To start this sidequest, enter the vault on the lower level of the Pearl Creek Bank on Lansdale Avenue. When trying to open one of the drawers, the alarm will be activated and the quest will begin.
Quest solution
Once the alarm has been activated, Screamers and Prisoner Minions will appear in the bank's foyer. There are five waves of enemies, with each wave tougher than the last. Each time a wave is defeated, a drawer will open in the vault, containing numerous items.
Wave 1:
Reward: first aid kit.
Wave 2:
Wave 3:
One Screamer.
One Prisoner Minion.
Reward: Colt handgun.
Wave 4:
Reward: Handgun ammo.
Wave 5 (Final Wave):
One Screamer.
Two Prisoner Minions.
Reward: 3x first aid kits.
Once the final wave has been defeated, the alarm will stop, ending and completing the sidequest.
Trivia
Completing the sidequest unlocks the achievement/trophy "Silent Alarm".
It is possible to stop the alarm by using the kill switch, located under the desk in the manager's office on the second floor. This will allow the user to exit the bank and try the quest at a later time.
Gallery