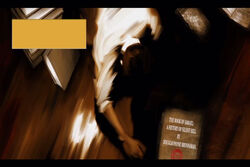 The Book of Samael: A History of Silent Hill is a book first mentioned in Hunger.
Background
Having yet to be written, it was Whately's desire that a person of his choosing would begin to chronicle the events that transpired in the lake-side town of Silent Hill, on June the 11th, in an unspecified year.
Content
The book would be a chronicle of the birth of Samael, an extraplanar entity, into the mortal realm. This event, set to occur in Silent Hill, would usher in a new age for an unspecified collection of such entities. Each would be born into Silent Hill through a predetermined process; impregnation of a human host who would be strong enough of body to bear these creatures, but weak enough of will so they could not fight and defeat the will of the entities and self-abort the birthing.
It would also tell the tale of this event's effect on Silent Hill. As the 11th of June wore on, the town began to slowly succumb to the deranged influence of the Otherworld, mutating some citizens of the town into monsters, while others simply experienced a decay in morality. This lead the people of Silent Hill to kill and consume one another, as well as resulting in the entire town being engulfed in a raging inferno.
Had the birth of Samael been successful that night, The Book would also eventually contain a complete history of important events that would have occurred after that momentous night. However, taking into consideration later comic releases, it can be assumed that Samael was not brought into the world that evening, as she is shown finally arriving in Dead/Alive.
Author
Whately had intended the author of his grand vision to be journalist Douglas Brenneman. Using Brenneman's fiancee as a bargaining tool to convince Douglas to undertake such a commission, Whately was able to brand the man into Samael's services. However, as mention of The Book of Samael beyond Hunger hasn't surfaced, it may be assumed Douglas was unable to fulfill his destiny.
Community content is available under
CC-BY-SA
unless otherwise noted.