"
To reach the deepest part, you must defeat the One Truth.

Do so and this door will open.

—Sign on the exit door


"
The One Truth, also known as the Dummy, is one of the few bosses of Silent Hill 4: The Room. It is a larger, more powerful version of the Wall Man.
Appearance
It has the ability to scale up and down walls, and instead of appearing from the walls, the One Truth appears to be suspended inside of a metal square with its flesh stretched out and attached to each corner. It has putrid, sickly skin as well, and much like Wall Men, it does not have a distinct face.
Character
Its metal frame can scale up and down a pair of bars that support it, enabling it to escape from attack. The boss is fought along with several dummies of itself. Henry Townshend must find and defeat the One Truth, or the real creature, among the dummies. Similar dummies are later found in the alternate apartments near the end of the game.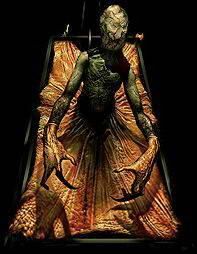 The One Truth attacks much like a Wall Man, swinging its powerful arms to make Henry prone to attack. However, its attacks do a good deal more damage. The biggest threat comes from its dummies, which are all but immortal and can also injure Henry. When the One Truth is struck, all the decoys surrounding it also cringe.
There are a total of twelve enemies: eleven dummies and the One Truth itself. In the rectangular room they appear in, there are four on the long halls and two on the small ones near the doors. However, the position of the One Truth does not change, unless the player leaves and reenters the room before completing the boss battle. Otherwise, the One Truth will remain in its initial position until it is killed. Its initial position also changes with every playthrough of the game, much like how the hospital rooms of St. Jerome's Hospital are randomized.
Symbolism
The One Truth is the guardian of Walter Sullivan's "mother", appearing just before the final level. It could be a test for Henry to find the "truth" among lies and deceit, as a challenge for the Receiver of Wisdom. After defeating the One Truth, Joseph Schreiber reveals the truth about Walter to Henry.
It is also generally representative of the twisted and mangled "truths" that the Order spreads, including its dogmatic teachings. Many real world religions maintain that they alone are "the one truth" and shut out other forms of thinking. The One Truth, whose body blocks a series of windows or door frames, preventing them from being used to see new things and go new places, seems to represent that.
Behind the scenes
According to Masahiro Ito, the One Truth was designed by Jun Inoue.[1]
Gallery
References