Thomas Orosco is a character mentioned in Silent Hill 2. He was the father of Angela Orosco and husband of Mrs. Orosco. He was murdered by his daughter for his abusive ways.
Biography
He had a long history of violence and alcohol abuse. He sexually and physically abused Angela throughout her entire life, and possibly his wife as well. Angela began to resent and hate her father and felt she could never forgive him for what he did.
Far from innocent, Mrs. Orosco was aware of the abuse and told Angela that she deserved such treatment (it is unknown if these were Mrs. Orosco's true feelings or something Thomas pressured her into saying). It is implied that Angela's brother, learning from his depraved progenitor, also abused his sister – the combined trauma of which eventually drove her to kill them both.
After Angela finished high school, she ran away from home in an effort to escape her abusive lifestyle, but was found and forcibly brought back by her father (which is illegal if someone is 18 or older).
A newspaper article found in the Labyrinth reveals that Thomas was murdered around midnight. Angela achieved this by stabbing him multiple times in his neck and left side of torso in a fit of rage with a knife. There is evidence of a struggle in the room, implying that Thomas fought for his life, but was overwhelmed by Angela. She did not hide her father's corpse and fled the house. Police eventually found his body and since there was evidence of a homicide, they opened a murder investigation.
Silent Hill 2
On the way to Silent Hill, James Sunderland encounters Angela. She tells him she is looking for her family, including her father; however, Angela had murdered her father and brother prior the events of the game. This is similar to James, who tells her that he is looking for his wife, despite her being dead. It can be assumed that Angela either lied to James or repressed the memory of her murders.
A photo left in Room 109 of Blue Creek Apartments in which Angela was residing shows a mother, daughter, father and son in that order. The photo is torn in half between the father and daughter. This could have been done by Angela, showing that the abuse happened when she was young. It is possible that he is Thomas. In the creased photo, the father appears to look young himself, wearing a checkered shirt. He has what looks to be a five o'clock shadow and short brown hair, while his eye color is not clear. It is possible that the creased form of the photo symbolizes Angela's view on her family as "broken".
In the Labyrinth, Thomas is symbolized by a monster known as Abstract Daddy.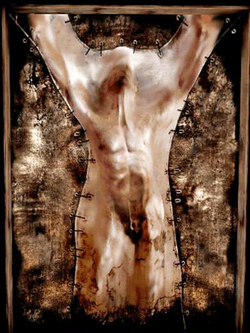 In the Lakeview Hotel, in the burning staircase scene, there are two bodies on the walls that are covered by sheets stretched tightly across them, conveying the idea of restricted movement; being held down. The sheets strongly resemble human skin stitched to a frame. The bodies are stained in the crotch with dried blood, with obvious castration wounds. These represent Angela's father and brother, affirmed in the novelization which James describes as a "middle-aged man" and "younger man", and confirmed by Masahiro Ito.[1] The corpse also appears in the short film "Fukuro".
Gallery