This is a timeline for the Silent Hill series based on as much official information as possible. Please ensure that all dates are official, referenced and appear chronologically. Please also note that while this timeline is primarily factual, some dates may be speculated or inferred.
Please note that this timeline may ignore dates from textures such as calendars in-game, as there is no proof the developers intended them to be canon, or the textures themselves are illegible.
For a timeline of film events, please see Timeline (film).
Timeline
Main universe
Pre-16th century
Native Americans regard Silent Hill as a sacred place and conduct rituals in the area, calling it the "Place of Silent Spirits".[1]
1600s
1607
Around this time, England begins colonizing North America.[1]
late-1600s
Settlers arrive to Silent Hill, causing the natives to leave the area.[1]
1692
The Salem Witch Trials occur in Salem, Massachusetts.[1]
1700s
Silent Hill is abandoned after a strange epidemic spreads rapidly.[1]
1776
The United States Declaration of Independence is established.[1]
1789
George Washington is inaugurated as the first president of the United States.[1]
1800s
1810
1816
1820
On March 15th, Maine secedes from Massachusetts and becomes a state.[1]
Allen Smith paints Waterfront Landscape around this time.[1]
1830
The Indian Removal Act is established.[1]
1840
Silent Hill Prison closes around this time.[1]
1850
A coal field is discovered in Silent Hill, leading to the establishment of the Wiltse Coal Mine which revitalizes the town.[1]
1853

Shepherd's Glen is founded by Isaac Shepherd, Edith Holloway, Cornelius Fitch and Mason Bartlett. They fled from their brethren and entered into a contract.[2]
Daniel Shepherd, Ann Holloway, Theodore Fitch and Helen Bartlett are sacrificed by their respective families on September 23rd to appease God.
1860
The Gillespie Coal & Iron Company begin extracting ore from the Devil's Pit.
1861
The American Civil War begins.
Silent Hill residents Patrick Chester and his son fight in the war.[1]
1862
Toluca prison camp is built to house POWs.[1]
1863
1865
The American Civil War ends in a Union victory.[1]
1866
1867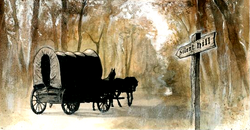 The events of Past Life occur. Inola, a Cherokee woman, used Esther Munroe to rebirth her deceased daughter, Awinita. It is implied Awinita's original incarnation was killed by Jebediah Foster.
1890
Native American resistance comes to an end following the Wounded Knee Massacre.[1]
Around this time, people in Silent Hill begin mysteriously disappearing.[1]
1897
Bartlett Vineyards is established.
late-1800s
Brookhaven Hospital expands into a larger establishment.[1]
1900s
In the early 1900s, Toluca Prison closes and Silent Hill becomes a tourist area.[1]
The Wiltse coal mine closes.[1]
1903
Thomas Shepherd, Earnest Holloway, Rose Fitch and Charles Bartlett are sacrificed by their respective families to appease God.
1911
According to local legend, miners discover mysterious symbols carved into the walls of a limestone grotto in the Superstition Caverns, leading to wild speculation about witchcraft and the occult. Soon after, a series of unfortunate accidents and reports of mysterious creatures force the Gillespie Coal & Iron Company to suspend mining operations along this seam.
1918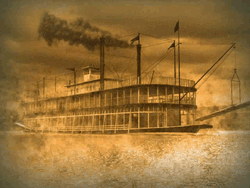 In November, a tourist ship called the Little Baroness goes missing on Toluca Lake.
1939
A series of strange boating accidents occur on Toluca Lake, diminishing the town's reputation as a tourist area.[1]
1945
1953
Rebecca Shepherd, Lawrence Holloway, Rusty Fitch and Patricia Bartlett are sacrificed by their respective families to appease God.
1959
Late-1950s, Early-1960s
1961
1980s
1990s
1993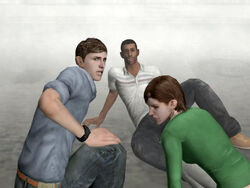 2000s
2003
Shepherd's Glen celebrates its 150th anniversary on Saturday and Sunday, September 20th and 21st respectively.
Scarlet Fitch, Nora Holloway and Joey Bartlett are sacrificed by their respective parents to appease God.
Joshua Shepherd dies in a boating accident and Alex is sent away to a mental hospital.[13]
2007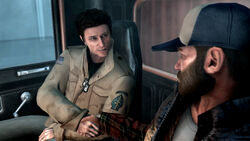 Alex escapes from the unspecified mental hospital he was staying at (implied to be Alchemilla, but unknown for sure) and returns to Shepherd's Glen.
In October, the events of Silent Hill: Homecoming occur.[14]
2010
Silent Hill: Shattered Memories universe
1700s
1730
Daniel R. Bryant and a group of thirty four pioneers cross Toluca Lake to arrive in Silent Hill.
1743
In 1743, Daniel R. Bryant dies from influenza and is buried in town. An overlook is named in his memory.
1900s
1983
1990
2000s
2008
The events of Silent Hill: Shattered Memories occur.[16]
Births and deaths
Births
1800s
1819: Mason Bartlett is born.
1820: Isaac Shepherd is born.
1848: Daniel Shepherd is born.
1855: Andrew Fitch is born.
1857: Elizabeth Fitch (née unknown) is born.
1864: William Shepherd is born.
1865: Catherine Shepherd (née unknown) is born.
Frederick Holloway is born on November 24th.
1868: John Holloway is born on June 12th.
1870: Nancy Holloway (née unknown) is born on June 22nd.
1872: Lydia Bartlett is born.
1875: Stephanie Shepherd (née unknown) is born.
1876: David Shepherd is born.
1877: Lois Bartlett (née unknown) is born.
Regina Fitch is born to Andrew and Elizabeth Fitch.
1885: Henry Holloway is born on December 12th.
1887: Robert Holloway is born on August 17th.
1889: Sophie Holloway (née unknown) is born on July 29th.
1893: Mary Bartlett (née unknown) is born.
1900s
Deaths
Pre-16th Century
1800s
1874: Mason Bartlett dies on March 10th.
1882: Isaac Shepherd dies on March 9th.
1887: Andrew Fitch dies on April 15th.
1889: Catherine Shepherd dies on January 1st.
William Shepherd dies on March 1st.
1892: Henry Holloway dies on February 4th.
1894: Lydia Bartlett dies on April 5th.
1896: Lois Bartlett dies on May 6th.
1897: Elizabeth Fitch dies on June 29th.
1899: Nancy Holloway dies on December 16th.
Stephanie Shepherd dies on December 31st.
1900s
1900: Frederick Holloway dies on January 16th.
1901: John Holloway dies on October 29th.
1903: Thomas Shepherd dies.
Earnest Holloway dies.
Rose Fitch dies.
Charles Bartlett dies.
1910: Robert Holloway dies on January 23rd.
David Shepherd dies on March 1st.
1917: Caleb Bartlett dies on August 3rd.
Mary Bartlett dies on August 4th.
1920: Sophie Holloway dies on September 13th.
1923: Regina Fitch dies on May 14th.
1934: Horace H. Bartlett dies on March 10th in a powder mill explosion.
1953: Rebecca Shepherd dies.
Lawrence Holloway dies.
Rusty Fitch dies.
Patricia Bartlett dies.
1961: Richard Grady commits suicide on June 12th.
2004: Ariadne Johnson drowns.
Analysis
Japanese materials
According to Lost Memories: Silent Hill Chronicle, the games prior to Silent Hill 4 take place in order of release. However, they are not given concrete dates. This likely implies that the games did not have established dates to begin with.
Also in the Lost Memories document, it is noted that Harry's wife dies 11 years before Cheryl is born. The document then goes on to establish that Harry and his wife found Cheryl together. Because of the evidence against this date, it can be safely disregarded altogether.
Silent Hill 4 contains a series of diaries written by the young Walter Sullivan in Silent Hill, able to be read by Eileen. One of these entries implies that it was written on Sunday, October 21st. As a year for this date is never revealed, it is most likely that it was not meant to have any significant relevance to a larger timeline.
The only Japanese game to offer an official date is The Arcade, which takes place in 1993. Its place among the other games from this time period is unknown.
Western materials
One of the promotional materials for Silent Hill Homecoming is a document meant to be written by Alex Shepherd. It places vague dates for the first 3 Silent Hill games. However, these dates appear to be based on fan theories and not official materials from those games.
Gallery
References
↑ 1.00 1.01 1.02 1.03 1.04 1.05 1.06 1.07 1.08 1.09 1.10 1.11 1.12 1.13 1.14 1.15 1.16 1.17 1.18 1.19 1.20 1.21 1.22 1.23 1.24 1.25 Lost Memories: Silent Hill Chronicle, HISTORY of SILENT HILL (pg.6-7).
↑

The town celebrated its 150th anniversary in 2003.

↑ Silent Hill: Origins, Police Report (memo).
↑ 4.0 4.1 Silent Hill: Origins, Medical Report (memo).
↑ Silent Hill Origins, Calendar Puzzle (puzzle).
↑ The Little Baroness went missing in 1918, and The Arcade takes place "75 years later." In addition, the spiral staircase area is labeled "19181993", making the year clearer.
↑ After the summer, our town had this big anniversary party... And then, that whole week, Alex didn't come by and he didn't call me. It was weird, so I went over to his house. No one answered the door. I could hear Alex's mom crying... His dad came out and told me that Alex had left. That was a few years ago and I still haven't forgiven Alex for just leaving like that without even calling me. —Elle Holloway's Diary
↑ Adam's age and his birth date mean Homecoming must take place between April 2007 and April 2008.[1] In October, Alex states in his diary that he plans on escaping from the hospital and hitching a ride to Shepherd's Glen, meaning that it would be impossible for Homecoming to take place in 2008 or else Adam would have been 54 years old.
↑

There is a note in the game that says "Sat 2/20/10". In addition, the calendar in the protagonist's room corresponds to a June 2010 calendar.

↑ Cheryl Heather Mason was born in 1983. She was seven years old in 1990 when Harry died in a car crash. Dr. K states Cheryl has been denying her father's death for eighteen years. 1983 + 7 + 18 = 2008. As well, there can be boxes found in Orion Hunting Lodge with "2008" written on them. In the Dixon Bridge Control Tower, an almanac can be found with "2008" on it.
↑ 17.0 17.1 17.2 17.3 17.4 17.5 17.6 17.7 17.8 17.9 Silent Hill: Homecoming, official game manual, Characters (pg.8-9)
↑

Her missing poster, which Elle posts in 2007, states she is 15 years old.

↑ Silent Hill Origins, Chang Ch'ien (memo).
Notes