Toadstools are fungus-like creatures that inhabit the realms of Silent Hill 4: The Room, and also appear in Silent Hill: The Arcade. They are stationary and pose little threat.
Appearance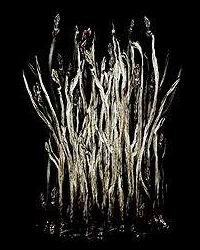 Toadstools are tall, slender, and they bulge out at the top of their stems, often equaling Henry Townshend's height. The red-brown color of the fungus terminates in a fleshy patch and sometimes take the shape of a human head locked in a scream.
Another nearly-identical variety of the Toadstools are called Whitestools. They function in the same manner as the Toadstool, differing only in that Whitestools are usually in tighter groups. They are white and tentacle-like and terminate in snake-like heads or hands.
Character
They grow out of the ground to obstruct Henry's path, though he can easily destroy them with a melee weapon to clear the way. They only do minor damage when Henry walks into them, and they themselves are destroyed in the process. Both variants are often seen growing out of corpses, such as Gum Heads and Sniffer Dogs.
Symbolism
These fungi most likely represent what they are: fungi. Like fungi present in our own world, they are signs of spreading decay and death.
Their shape could also be viewed as similar to an umbilical cord, with a fetus perhaps growing at the terminus. Also like a fungus, umbilical cords leech nutrients from that to which they are attached.
Gallery
Community content is available under
CC-BY-SA
unless otherwise noted.