Toby Archbolt was a priest of the Holy Mother Sect of the Order, which operated the Wish House Orphanage.
Biography
After the deaths of Jimmy Stone and George Rosten and the subsequent weakening of the Valtiel Sect, Toby tried to increase the influence of his own sect within the Order. He did this through illegally selling marijuana, and there is a rumor he sold marijuana to Peter Walls.
Toby reopened Wish House Orphanage for orphans, and was elected to the city council of Silent Hill, Maine for his contributions to the city and its people.
During a trip to Mexico, Walter Sullivan pushed Toby off of a cliff, making him the only victim in the series to be killed outside of the United States. His item is an old picture book found at the murder spot.
Silent Hill 4: The Room
Toby Archbolt is known as Victim 14. His ghost has a visible injury on his head, implying that Toby died by cranial trauma. He also is quite fast and inflicts average amount of damage.
In Walter's Otherworlds, Toby appears in Subway World, in Subway World (2nd Time) and in Forest World (2nd Time).
Trivia
Gallery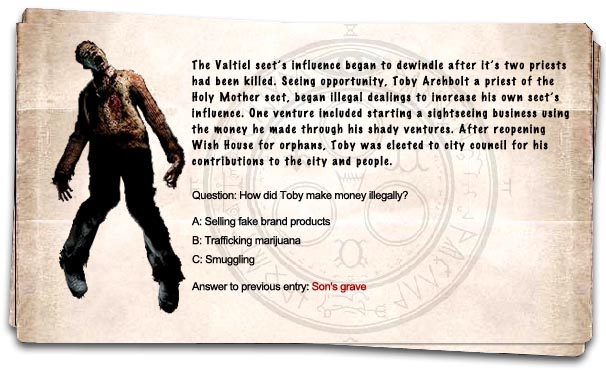 Community content is available under
CC-BY-SA
unless otherwise noted.