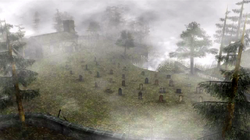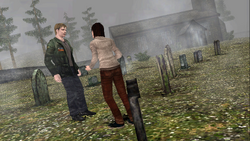 Toluca Graveyard is located to the east of South Vale Silent Hill, north of which is Toluca Lake. It is featured at the beginning of Silent Hill 2 and in one of its six possible endings ("Leave").
The graveyard is very small, with only a few graves and a small section overlooking Toluca Lake. It is surrounded by many trees and covered in fog. It is one of two ways to get to the town from the observation deck (the other being Nathan Avenue, the main road, which is blocked). The graveyard contains a small mausoleum and is very quiet. James Sunderland meets Angela Orosco upon arrival here. She is kneeling by a gravestone as if she is looking for a certain grave.
In the "Leave" ending of the game, James leaves the town together with Laura through the cemetery.
Community content is available under
CC-BY-SA
unless otherwise noted.