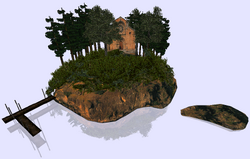 The Toluca Lake Island is an island that appears in Silent Hill 2, specifically in the "Rebirth" ending. Located on Toluca Lake, James Sunderland is seen rowing a boat with his dead wife aboard to this island.
The most notable thing about this island is that it has a church on it, which is where James is heading to. It is likely that this church belongs to the Order, as James is trying to revive his wife through the "Resurrection of the Dead" ritual, likely a ritual practiced by the Order.
A level explorer reveals that the island can be found between the Toluca Prison dock and Lakeview Hotel, meaning that the island is located south of Lakeview Hotel. There is more evidence of this, as the model of the island (seen on the right) has another small island located beside it, and the island on the South Vale map also has a smaller island located beside it.
Gallery
Community content is available under
CC-BY-SA
unless otherwise noted.