Toluca Lake Water and Power is a location near the intersections of Koontz and Simmons Street in Silent Hill: Homecoming. A power plant, Water and Power provides energy to most of Central Silent Hill.
Alex Shepherd explores the Toluca Lake Water and Power building in hopes of finding a way to disable the electric fence surrounding Overlook Penitentiary in order to rescue Deputy Wheeler and Elle Holloway. In addition to a puzzle involving the power-generating stations, Alex also has his first combat situation with members of the Order here.
Design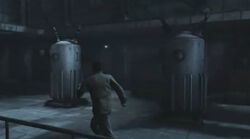 A two-story power-generating facility, Toluca Lake Water and Power uses a three station setup, with Station A controlling the flow of water into the system, Station B controlling boiler operation, and Station C controlling the flow of steam to a turbine system. Station A can be found on the first floor, while Stations B and C are on the second. In addition to the three-station control system, large amounts of power-regulating equipment can be seen.
Trivia
Although Toluca Lake Water and Power provides energy to the fence surrounding Overlook Penitentiary and Wheeler makes mention of the lights going out in the prison when Alex shuts the generator down, the area beyond the barricade found on Sagan Street and the interior of the prison itself, are both powered when Alex explores them.
Community content is available under
CC-BY-SA
unless otherwise noted.