Toluca Mall is a large shopping mall in Silent Hill: Shattered Memories. It is located in the northeast section of Silent Hill, and is parallel to the Silent Hill Town Center from the original Silent Hill.
Harry Mason must pass through the mall in order to get to the house on Simmons Street, where he believes his daughter Cheryl is.
Before being able to enter the mall proper, however, Harry receives a call from Lisa Garland asking him to hurry back to her apartment. Doing so triggers the Ice World taking over the surrounding area, and the mall twists into an icy, nightmarish landscape that Harry must run through. Before escaping the Ice World, Harry must solve a small puzzle involving the mall mascot, Tookie the Toucan.
The mall is presumably abandoned, with most stores being closed and covered. There are two floors, not including the rooftop, and Harry can navigate through certain stores and back corridors to reach the mall exit beside Simmons Street.
Venues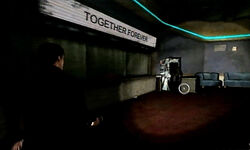 Among the closed stores, there are a number of venues Harry can see or enter.
Cine-Real: A small movie theatre. There is only one screening room, but the "movie" promoted changes depending on the player's Psych Profile.
New Looks: A hair salon with many photos of hairstyles lining the walls.
The Family Pet: An abandoned pet store.
Fashion Men: A men's clothing store.
Housewife's Bazaar: Unknown, possibly an imports store.
Tweedledums: Newborn to infant clothing store.
Photographic Memory: A photo development and printing store.
Fun & Games Toy Store: A toy and hobby store.
Allen Camera: Unknown, likely a camera store.
Cafe Noir: A coffeeshop.
Pageturners: A bookstore.
Chica Bella: A women's clothing and lingerie boutique.
Hot Sounds: A music store.
Game Play King: A video game store that also sells consoles and offers exchange and game rental.
Crystale Watches and Jewelry
Gallery
Community content is available under
CC-BY-SA
unless otherwise noted.