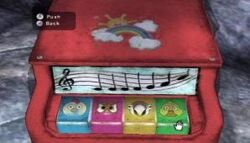 This article is a guide for a Silent Hill: Shattered Memories puzzle.
The Toy Piano Puzzle features in Silent Hill: Shattered Memories. It is the very first puzzle encountered by Harry Mason, located in a vacation cabin in Silent Hill's outskirts, deep within the woods. It is encountered halfway into a Nightmare sequence.
Solution
The toy piano lies on a couch in the cabin. A married couple and their daughter (mirroring Harry's family) are frozen in the middle of the room. Approaching them results in Harry's cellphone receiving an Echo Message. Listening closely to the voicemail reveals a combination of five piano notes in the background. Harry must input these notes in the piano. It consists of four keys; each plays a different animal sound: chicken (blue), owl (magenta), parrot (yellow), and duck (green). The correct sequence is:
Green
Magenta
Yellow
Yellow
Blue
Harry gets another Echo Message and the ice melts, allowing him to exit the room and carry on through the Nightmare sequence.
Trivia
This puzzle shares many similarities to the Piano Puzzle in the first Silent Hill. Both involve a piano, sounds (or lack thereof), and birds.