Tremers are large, leech-like creatures that inhabit Walter Sullivan's Otherworlds. They are not very threatening but are still considered a nuisance. Tremers also appear in the spin-off games Silent Hill: The Arcade and Silent Hill: Book of Memories.
Appearance


Tremers appear to be huge leeches, varying in size between a foot long and the size of a human torso. They are consistently coated in slime and adhere themselves to walls, floors, and ceilings, leaving a trail of slime in their wake.
They come in two, negligible varieties: Blue Tremers and Red Tremers. Blues are dark, almost blue-black, and have a segmented, pointed appearance, whereas Reds are a solid, teardrop-shaped creature with a dull red tinge. When killed, they release a splatter of gooey blood, supposedly from recent meals.
Character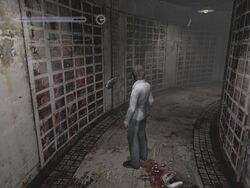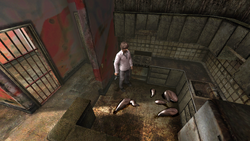 They don't pose much of a threat; however, they can damage the player if one comes into any sort of physical contact with them. They start appearing in the Water Prison World. Tremers are mostly non-threatening in general. Their only method of attack is if they come into contact with Henry Townshend and then burst open, causing minor damage to him. They may also drop from the ceiling and damage Henry on contact as well. They are killed by simply stomping on them, as they have no method of self-defense. Also, Henry can splatter them with a melee weapon when they are adhered to a wall, or simply knock them down and then stomp on them. Red Tremers do slightly more damage than the blue ones.
Tremers, specifically the larger ones, also have a behaviorism of waggling their tail-ends toward Henry, which is more likely to occur the closer he is. The exact reason for this is unknown, but it is possible that they may do this in an endeavor to frighten off whom they see as a predator or appear more threatening than they actually are, a very common trait among many organisms.
Symbolism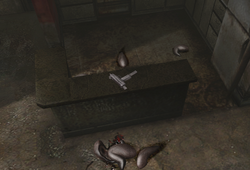 They are parasites that live off of the carrion and gore of Walter's worlds.
The Tremers appear as a manifestation of Walter's feeling of disgust towards leeches. It is possible Walter or a childhood friend of his was forced to drink water or some liquid infested with leeches by the attending watchman at the Wish House Orphanage, Andrew DeSalvo, a sign of Andrew's abusive nature towards children. This is implied by a note which says, "I had to drink something with black things in it."
These present another example of Walter feeling as if he was a parasite to his mother.
They may also symbolize the cult's influence on Walter.
Silent Hill: The Arcade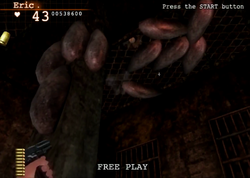 Tremers can rain down from above onto Eric and Tina. Like the Creepers, they are not a particularly threatening enemy, likely causing serious trouble only when accompanied by groups of other, more volatile monsters. They have the ability to latch onto the screen and the player must shoot them off. The Arcade version implies that Tremers are larvae of the Split Worm because the Split Worm spits them at the player.
Community content is available under
CC-BY-SA
unless otherwise noted.