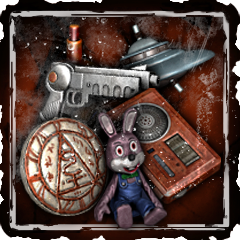 Ten Trinkets can be found in Silent Hill: Downpour. Once found in-game, they can be observed in the collectibles section under the extras menu. Only three of the trinkets can be found on a first playthrough, as they relate to the events of Downpour. The other seven, which are references to previous games, are found as part of the "Digging Up the Past" sidequest and can only be found on a second playthrough. Collecting all trinkets in the game will award the player the "Useless Trinkets" achievement.
Downpour trinkets
Child's Kite: A kite with the initials C.P. painted on it. Presumably the kite Charlie Pendleton was flying with his father before he was kidnapped. Found on a bench in Logan's Park.
Canvas Sack: A heavy, wet sack that smells like it was found on the bottom of the lake. Likely the sack that Patrick Napier drowned Charlie in. Found in a classroom in St. Maria's Monastery.
Toy Van: A toy car, though it is described as being identical to the van owned by Patrick Napier. Found in St. Maria's Monastery restroom on the way to the medical wing.
"Digging Up the Past" trinkets
These trinkets are all connected to previous Silent Hill games, and can be found by using a shovel to dig up the soft dirt near seven barrels with lit candles on top. The candles are unlit on a first playthrough and will go out once the trinket has been collected.
Gallery
Downpour Trinkets
"Digging Up the Past" Trinkets
Community content is available under
CC-BY-SA
unless otherwise noted.