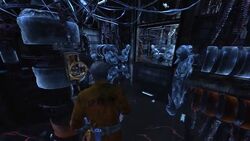 This article is a guide for a Silent Hill: Downpour puzzle.
The Upside Down Puzzle is a puzzle in Silent Hill: Downpour found just before the Water Blades Puzzle in Overlook Penitentiary.
Solution
When Murphy Pendleton enters the room of the Upside Down Puzzle, he will see two Prisoner Juggernauts under the floor, walking upside down. The room contains a valve that turns the room upside down and a control panel that activates the projectors and drops down the cages. The goal is to trap the Prisoner Juggernauts into the cages by baying them in using the projectors. When the monsters are trapped, it's safe to use the valve to turn the room upside down and proceed to the next room.
Gallery