XBOX 360 USERS: THIS DOES NOT APPLY TO YOU! THIS IS ONLY HAPPENING IN THE PLAYSTATION 3 RELEASE!
Update. New videos from SHHS!
Ok, heres a new video, thanks to Whitney at SHHS. She noticed, as a few also did, that when decending the stairs in the SHHS to the underground prison, there is supposed to be a creepy siren randomly playing to scare players... however for somereason, Hijinx Studios thought it was funny to remove it!
Another thing from Whitney is pointing out James horrible um... breathing. This seriously sounds odd and sounds like he is darth vader, or as whitney said, DARTH SUNDERLAND! Lol.

We should NOT see the edge of the map:
And another, look at this NASTY water: (Spyro 2 for PS1 had more real looking water!)
(All vids above taken from Silent Hill Historical Society)
AMAZON HAS RECALLED THE XBOX 360 AND PS3 COPYS OF THE GAME!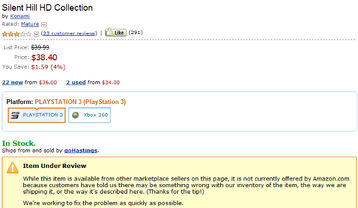 Here is LEVIT0`s video showing ALL the issues:
Heres a video showing a major slow down in SH3 HD`s sewer levels:
thumb|300px|left|horrible slowdowns in SH3 HD (sewer level, recorded with a phone)
Also:
Silent Hill HD Collections SH3 portion is 100% unplayable due to every room in the game having a severe framerate drop, and in some places, a lockup.
In SH2, the game stutters, lags, crashes, has sound loops, and the game shows things you should not see:
(HD COLLECTION IS LEFT, ORIGINAL IS RIGHT)
You should NOT see the edge of the gamemap!

Another problem is the streets. Silent hill is supposed to look abandoned, not look like a nice resort town (ironic though huh?). This is what Hijinx Studios did to it: (Left is PS2 version and right is PS3 version)
Check this Gif out, which shows the new nasty water effects: http://i.minus.com/i3Ph4CpiXrvX8.gif
Here you can see ALL the problems: http://www.helldescent.com/forums/viewtopic.php?f=20&t=1086
And lol:
Konami gets owned: http://www.geekosystem.com/silent-hill-hd-release-misses-point/
And this is what the original art director of SH2,3 and 4 had to say about this whole deal (Masahiro Ito):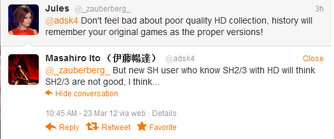 Lol, so ITO is pissed... haha.
Also some more:

My suggestion? Rent it, borrow it. Dont buy it. Its not worth the money for a game that feels like a beta. This is a terrible port. Konami knowingly released this it this horrible state, and there paying for it. Amazon is even letting people who ordered the game get there money back AND keep the game!
And the official score on meta critic for the ps3 version to fall back on if YOU STILL DONT BELIEVE US: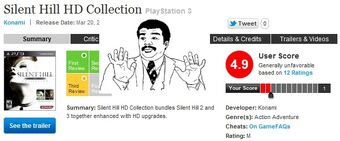 Community content is available under
CC-BY-SA
unless otherwise noted.